Early conference slate could define Marquette's season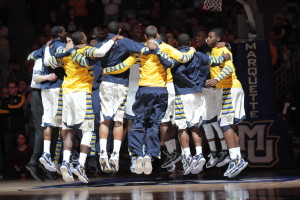 Some may say Marquette was dealt a tough draw to open up its conference schedule. The Golden Eagles start Big East play with a road game on New Year's Eve against local rival DePaul, but it only gets tougher from there.
Marquette plays its conference home opener against Big East tournament champions Providence Jan. 3. Following the Friars are games against Georgetown (twice), Creighton, Xavier and St. John's. Four of those teams finished ahead of Marquette in the conference last season and Georgetown is still a perennial foe after a disappointing 2013-14 season.
Despite what some think could be a difficult start to conference play, coach Steve Wojciechowski said the year would have started with difficulty no matter who came up first on the schedule.
"They're all tough," Wojciechowski said. "Our job is to win the games in front of us and not make excuses. You could have shuffled the deck in a number of different ways and we would've said it was all a difficult start."
Another crucial stretch could be a three-game home stand at the end of January against Georgetown, Seton Hall and Butler. All three teams finished below Marquette in the standings, but present plenty of challenges.
Seton Hall is a rising program and almost knocked off Marquette at the BMO Harris Bradley Center last season and defeated regular season champion Villanova in the Big East tournament. Pirates' coach Kevin Willard brought in an unprecedented recruiting class, including five-star shooting guard Isaiah Whitehead from Brooklyn, N.Y.
Butler is coming off of a dismal first season in the Big East, but the Bulldogs knocked off Marquette 69-57 in overtime last season in Indianapolis, Ind.
If Marquette can take care of business in its three home games the final week in January, the wins could generate some serious momentum heading into the back end of the schedule.
The second half of the conference slate begins with three of four games on the road, starting with Villanova in Philadelphia. The Golden Eagles head to West Orange, N.J., for a rematch against the Pirates, then come home to face Xavier before battling the Doug McDermott-less Creighton Bluejays in Omaha, Neb.
Marquette concludes the season with two crucial home games. St. John's comes to town Mar. 4, followed by Senior Day against DePaul Saturday, Mar. 7, the first day of spring break.
There are plenty of games fans might circle on their calendars, but Wojciechowski said he does not look at one particular stretch or matchup when evaluating the schedule.
"I don't think it's necessarily a good thing to say 'This is a big game,'" Wojciechowski said. "It can take away the preparation you need for all games every day. Every game is of equal importance."
"Certainly there are natural rivalries and games that capture the hearts and the minds of the fans, but from a coaching standpoint, we have to prepare for every game like it's a championship game," he said.
Overall, the conference schedule has its share of tough tests. The schedule gives no room for Marquette to breathe easily and the opening stretch will throw a potentially brand new starting lineup into the fire immediately.
"We're in a really good conference and one of the things about playing in a good conference is that you're going to play outstanding teams game in and game out," Wojciechowski said.
Leave a Comment