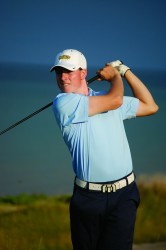 The Marquette men's golf team finished seventh out of 13 teams on the par-72 Rich Harvest Farms golf course at the Northern Intercollegiate Golf Tournament in Sugar Grove, Ill. Juniors Nick Nelson and Pat Sanchez lead the way for the Golden Eagles, individually finishing 10th and 11th, respectfully, in a field of 74 players, which featured three teams that finished in the Top 25 last spring.
The three-day weekend got off to a fast start with Nelson's best scoring round of the tournament, shooting a 72. A surprise bright spot for the Golden Eagles came from freshman Trevor Thomas, who scored a first round 74 and three day total of 234 in his first college tournament.
Sanchez shot a 69 in the second round, which was the best individual round of the weekend. His score, one off his 18-hole record, put the team 12 shots from the lead and was one of his favorite moments in his career.
"It was great to play well at a hard venue," Sanchez said. "It was nice to shoot the second round of the season in the sixties on one of the hardest courses we've played, which shows what we are capable of."
Coach Steve Bailey was also very impressed with Sanchez's second round.
"Pat's second round 69 was huge for the team," Bailey said. "On a day when course conditions were toughest and no other player broke 71 (in the tournament field), he cards six birdies and shots 32 on his back nine. This will be big for his confidence moving forward."
Although the Golden Eagles made a run towards the top of the standings, Sunday was a bit of a disappointment for the team. Despite Nelson scoring a 73 and having another consistent round, high numbers from the rest of the team put the Golden Eagles in an unwinnable situation. While the team may not have performed as they hoped, Bailey was once again pleased by Nelson's individual effort.
"(Nelson's) consistency off the tee was a huge advantage on a course as demanding as Rich Harvest Farms," Bailey said. "He played the par fives in four under on the week and finished second in the field with 38 pars."
The team will have the next weekend off before playing in the Windon Memorial Classic Sept. 21-22 in Skokie, Ill. The tournament, hosted by Northwestern University, will once again feature numerous teams from power conferences. Sanchez believes that while there were many individual successes, the team still has a lot of room to grow over the next couple weeks.
"There is plenty of work to do to prepare us for the next tournament," said Sanchez. "The flaws in our games from this tournament show us what we need to perfect to get to the next level."