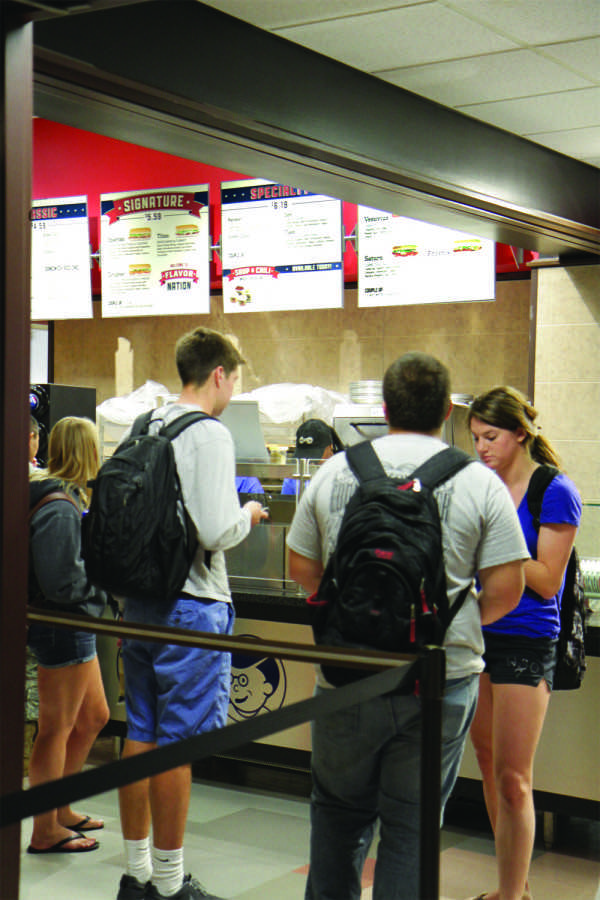 Lunchtime at the Alumni Memorial Union's Marquette Place is widely known to be a chaotic mess of students trying to grab a quick bite between classes.
In an attempt to address the noontime congestion, Marquette Place's manager, John Nicholds, said Erbert & Gerbert's, the new sandwich shop in the food court, was strategically placed to keep the lines moving.
Last Thursday marked the opening of Erbert & Gerbert's, a sandwich shop that originated in Eau Claire, Wis., and offers 20 different hot, cold or gluten-free sandwiches, as well as hot soup.
The menu features a variety of colorful names, like "the Girf" (turkey and ham), "the Erupter" (buffalo chicken and bleu cheese), and "the Geeter" (seafood and Bacon).
"Our goal is that through our fresh and delicious food and stellar customer service we can become a vital part of the campus community," said Eric Wolfe, president and CEO of Erbert & Gerbert's, in a news release.
Students with a meal plan have a choice of a turkey, ham, avocado vegetarian or tuna sandwich, which comes with a selection of chips and a medium drink. Additionally, beginning Sept. 29, Nicholds said he hopes to add limited-time offers to switch up the sandwich options and give students the opportunity to try something different.
"Erbert & Gerbert's has been very popular among students," Nicholds said. "Marquette is always looking for a way to change up the dining options on campus and keep things fresh."
Erbert & Gerbert's is also unique in that students are able to pay for their meals right at the restaurant's counter, as opposed to the cash registers shared by all other outlets in the food court.
"They have been able to offer students both chips and a drink for the meal plan, which New York City Subs was unable to do in the past," Nicholds said.
Marquette started to look into adding Erbert & Gerbert's to its campus a couple of years ago, but the chain only recently received attention for its success on other campuses.

In an article on Thrillist, an entertainment website, the Erbert & Gerbert's location at the University of Minnesota was listed as one of 33 top sandwich shops on American college campuses.

The Erbert & Gerbert's chain said in the news release that it will be opening 20 new restaurants by the end of the year, with a goal of adding 200 new restaurants by 2017, including at other universities. Three of the restaurant's locations have already opened at Indiana University.
Correction: An earlier version of this story incorrectly said that students can use meal plans to get a roast beef sandwich at Erbert & Gerberts. It has been changed to read that students can instead get an avocado vegetarian sandwich.