Women place third, men fourth at Badger Opener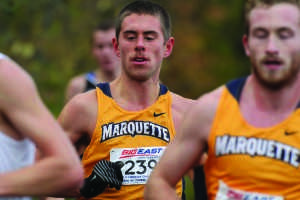 The Marquette cross-country team began its 2014 campaign at the Badger Opener in Madison Friday. The men's team finished in fourth place out of five teams while the women's team finished third. The hosting Wisconsin Badgers were victorious in both races.
Freshman Alec Miller led the men's side with a time of 19:05, which was good for 24th overall. Sophomore Nate Gomoll finished two seconds behind Miller, while redshirt junior Blake Lawson (19:10), freshman Jack Carpenter (19:11) and junior Marc DiVerde (19:18) rounded out the top five.
"On the men's side for the most part we ran really well," coach Mike Nelson said in a press release. "Alec Miller led us with a big sprint over the last mile or so and Nate Gomoll was right behind and had a great race. I thought we might have four freshmen in the top seven and our younger guys definitely got the job done today. Our older guys are going to need to step up. If we can get them on the right track we are headed in the right direction."
The women were led by junior Kellie Greenwood, whose time of 14:13 was the fifth best of the field. Marquette's next finisher was freshman Meghan Carroll, who finished the race 39 seconds after Greenwood and finished 20th. Junior Kayla Spencer (14:53), sophomore Mariah Frank (14:55) and senior Elisia Meyle (15:00) all finished within eight seconds of Carroll to round out Marquette's top five.
"We've got a limited roster because of injuries and the ladies stepped up," Nelson said in the press release. "Overall I thought it went well. We looked at this meet and we said we wanted to run okay, we didn't expect anything too crazy and I think everyone had a consistent race."
The Golden Eagles will race again in two weeks at the National Catholic Championships at Notre Dame on Sept. 19.
Leave a Comment