Marquette starts season at Northern Intercollegiate Golf Tourney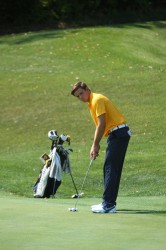 With the season beginning this weekend, the Marquette men's golf team will look to build off its success from last year. After earning a second place conference finish last year, head coach Steve Bailey believes that having most of the team on campus during the summer was set the team up for success once again.
"Most of our guys were playing a lot of events locally and really pushed each other," Bailey said. "Just getting into competition was important and that was really key having all of them here as they were able to push one another, hold each other accountable and get in that competitive arena. Their games are primed and ready to step on campus."
Two key players who stayed in the area were junior Nick Nelson and senior Brandon Cloete, who became the first Marquette players to qualify for the US Amateur tournament. Nelson views the level of competition he faced this summer as a benefit coming into a season with lots of expectations.
"Coming into this week's tournament, if I could compare myself to my freshman year, it was really nerve-wracking thinking about all the little things that go into golf," said Nelson. "Now as I'm older, I just go into competitions knowing what to expect. Whomever you're playing with, you're still just playing golf and in the end, it's just taking it one shot at a time."
With a bevy of individual successes this summer and only one senior gone, it would be easy for the pressure of expectations to catch up with team. Senior Adam Chester trusts the group has a culture to combat any future bumps in the road.
"It's the environment we create every day,"Chester said. "We spend a massive amount of positive energy. A lot of the teammates will give you a pick up if you're not playing as well as you'd like to. Obviously with the standard that we're playing at, you have to be playing well and if you're not, you're not going to make the starting lineup."
The season begins with a trip south to Sugar Grove, Ill., for the Northern Intercollegiate Golf Tournament Friday through Sunday at the Rich Harvest Farms golf course. Bailey believes the massive 7,700-yard course will be a difficult test for the team to start the season, but that offseason training for it at similar courses was a way to combat it.
"The scoring average has always been quite high so we wanted to play some similar golf courses," Bailey said."We did that playing Erin Hills a few times, which will host the 2017 US Open. We were fortunate to go out to Blackwolf Run as well and play the river course. We just tried to play some comparable tests golf course wise to prepare guys to play in those events for those courses where making par is pretty good."
Bailey believes that if his team plays hard, the results are going to take care of themselves. If the team adheres to this mantra, the Golden Eagles should see a lot more success and could challenge for the conference championship.