Marquette cross-country starts season at Badger Opener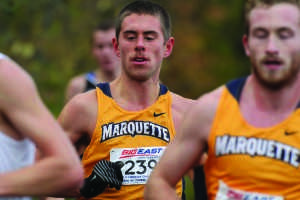 As the Marquette cross-country teams embark on their first meet of the 2014 season, there will be plenty of excitement and aspirations, but expectations will be tempered.
"Our goal with this first meet is really just to run OK," coach Mike Nelson said. "In cross-country, you don't want to necessarily have the race of your life the very first race out, but you don't want to run badly either. You want to have a performance that's your foundation and you can build on it from there."
Nelson seeks a balanced effort from his runners Friday, when the teams face their first challenge at the Badger Opener in Madison. The key, Nelson said, is to keep things simple.
"There's a lot of unknowns with this first meet," Nelson said. "We don't even exactly know who's competing. I just don't want to over-analyze anything."
The teams enter the season following a year at the middle of the pack in the Big East. The men's team finished fifth in last year's conference meet, while the women's team finished sixth.
Despite graduating top runners Jack Senefeld and Spencer Agnew from last year's men's squad, Nelson is optimistic about the young roster he's assembled.
"One thing that we have on our side this year is that we do have pretty good team depth and for the most part we're pretty healthy right now," Nelson said.
Redshirt junior Marc DiVerde is one of the team's top returning runners, and he said the first meet of the year is all about shaking off the cob webs.
"I try not to overthink it," DiVerde said. "You'll have the natural rustiness, but we got to all be tough, run together, run for each other and things will turn out well."
DiVerde acknowledged the team is quite young, as there is not a senior on the roster. With so much youth around him, DiVerde said he wants to step up his role as a leader.
"I want to set an example for the younger guys," DiVerde said. "I know a lot of these guys have a lot of potential. I just want to be tough as nails."
Nelson said there are 18 runners vying for the team's top seven spots. His hope is that some of his runners, namely, redshirt juniors Blake Lawson and David Sajdak, juniors Andres Tineo-Paz, William Hennessy and Michael Corr, and sophomore Nate Gomoll will place in the top three consistently.
The women's team enters the season slightly banged up and will need to replace three of its best runners from last season. Nelson said the early-season injuries could be a bit of a blessing in disguise for his unit.
"I know that sounds crazy, but sometimes that means they'll rest up a little bit and they'll be ready to go and rolling in (October and November) when the real meets come around."
The women's team does return junior Kellie Greenwood, who was the team's top finisher in the first six meets. She said the key to her season will be staying healthy all year and feeling good when she hits the course.
"My expectations are to stay healthy and make it to the line healthy," Greenwood said. "The most important thing is if you're on the line and you're feeling good, then you're going to run well."
Greenwood said the most exciting thing about the Badger Opener is getting to run and improve as a team again.
"I'm really excited for the Madison meet," she said. "I think it's a really fun meet, there's not too much pressure. It'll just feel good to get out and run with the team. With cross, we're all starting at the line together, we all take off together so we can work together and work in groups and better ourselves that way."
Although the first meet of the year is usually meant to shake off the rust and establish a foundation, it is still an essential step in the long haul of a cross-country season.
"Track and cross-country are building block sports," Nelson said. "It's just a slow and steady increase in fitness."
Leave a Comment