New DPS chief easing into role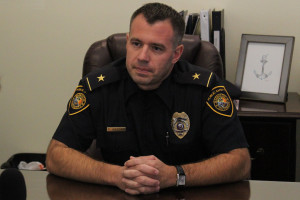 With school underway and students settled in on and around campus, Paul Mascari is also settling into his new position as director and chief of the Department of Public Safety.
Mascari's goal is simple: Make a more efficient department and keep safety a priority as the department grows within the next few years.
And part of that goal may include transitioning DPS into a police force, coming from a law signed by Gov. Scott Walker in April that gives the university the power to assume formal police powers.
"One of the main reasons we're looking at it is for efficiency," Mascari said. "We want to take our time to explore, see budget impacts and make sure that we're efficient while keeping the neighborhood safe."
Mascari was a key contributor in passing the bill, although it is still unclear whether DPS will adopt police powers. Regular meetings and discussions will occur throughout the semester with constituents, students, faculty and staff on the transition.
Mascari grew up as the oldest of five brothers and sisters, throwing him into a leadership role early. He said the skills he learned there helped him build camaraderie with the DPS force.
Prior to his time at Marquette, Mascari served in the United States Marine Corps as a weapons platoon sergeant in 2002. He was also a sergeant and shift supervisor for General Security Services Corporation, where he supervised, scheduled and trained armed security guards on contract with Milwaukee's Reuss Federal Plaza, federal courthouse and INS buildings.
When he arrived at Marquette 10 years ago, Mascari started as a patrol officer, slowly rising through the ranks of DPS until he was chosen this summer to fill the position left by former Chief Larry Rickard, who resigned last fall.
"Throughout my career here and the different aspects I was involved in — crime prevention, victim witness services, working on patrol—I really have gotten a taste for everything," Mascari said.
When the search for the new DPS chief ended after the nine-month term of  interim director Russell Shaw, Mascari said he believes his wide range of knowledge acquired throughout his time on the force equipped him for the job.
He also said one of the biggest challenges he faced so far was getting students — especially freshmen and transfer students — to understand that safety is a shared responsibility between students and DPS.
"To get that message out is a challenge because your audience changes every year and then you have to keep reinforcing that message and make sure that the safety procedures and guidelines are being followed," he said.
A typical day for Mascari involves overseeing 180 student and professional staff members. He emphasized collaboration, saying that biggest responsibility is to ensure the staff always works toward bettering the community. It is also his responsibility to ensure that his officers are aware of their surroundings at all times.
"We can't operate out of a vacuum," Mascari said.
Shaw, associate director and captain of DPS, worked with Mascari for almost 10 years, and described Mascari as a "very forward-thinking person."
"He's a high-character person, a strong leader (who's) committed and energetic — things that are very important to being chief of this department," Shaw said.
Jill Weisensel, a lieutenant for DPS, added that Mascari provides a lead-by-example leadership style that she said is very comforting.
"(Mascari is) open and transparent with officers (on what his) goals and directions of the department are," she said.