Women's soccer looks to get back on track in Colorado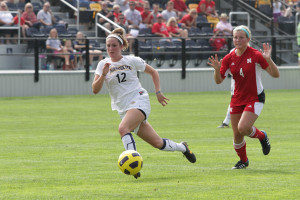 The Marquette women's soccer team travels to Colorado this weekend to participate in the Colorado College Invitational, where the Golden Eagles look to get back in the win column.
Trying to stop a three-game skid, Marquette (1-3) will kick off in Colorado Springs, Colo., against New Mexico. It is the Lobos' first game of the regular season.
New Mexico played a single exhibition game in its preseason, a 3-0 loss to Arizona Aug. 16. The team was scheduled to start the season Aug. 22, but had to cancel its match against Texas Tech. For Marquette, that could be a great advantage.
New Mexico only has one returning senior on its squad, midfielder Alexis Leyba. Because she plays defensive midfielder, Leyba did not record a single point last season. The Golden Eagles could take advantage of that inexperience and get ahead early.
The biggest problem the Lobos will have this upcoming season is goal scoring. New Mexico's leading returning scorers are juniors Lindsey Guice and Dylann O'Connor, who each notched 11 points last season.
With a low-scoring offense such as New Mexico's, Marquette's defense should not fall victim to the defensive collapses that have plagued the team for the past three losses. However, the Golden Eagles need to also be careful to not underestimate the Lobos, who have nine returning starters.
In Marquette's second match of the Invitational, the Golden Eagles will take on host Colorado College.
Coming into the tournament, the Tigers are 1-1-1. They beat state rival Denver, lost to Northern Colorado and tied Colgate in their first three matches of the season. Colorado College also played Nebraska in an exhibition match and fell to the Cornhuskers 5-3.
Marquette should find solace in its allowing two fewer goals to Nebraska than the Tigers did, but the Golden Eagles also scored one fewer goal. But because it was an exhibition game, the Cornhuskers may not have been playing its starting lineup against the Tigers.
Junior midfielder Sarah Schweiss leads Colorado College in scoring with eight points in just three games played. Schweiss has the ability to take over a game and score at any time, and should be a focal point for the Marquette defense.
The Tigers offense generates a lot of shots, with the team taking 53 in its first three games, 21 of which ended up on goal. Goalkeepers Amanda Engel, and if she sees playing time, Sofie Schunk, will be active in net.
The Golden Eagles have had a rough stretch to start the season, but a good showing at the Colorado College Invitational could get the season back on track. Marquette's match against New Mexico starts at 2 p.m. Friday afternoon, and kickoff against Colorado College is at 2:30 p.m. Sunday.
Leave a Comment