Opera 101 provides relaxed approach to classic art form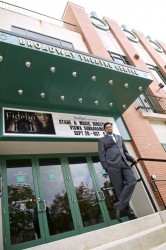 Experiencing and learning about opera may not be a typical Thursday night activity for most college students, but with Opera 101, Skylight Music Theatre will present the art form in a relaxed and social environment for all students, not just the musically inclined.
Opera 101 serves as an outlet for Milwaukeeans to come together and discuss the opera form, as well as listen to some performances. Guests hear performances from Subbaraman, three other vocalists and a pianist. The event is free, so anyone interested in experiencing this classic form of story telling has nothing to lose. Held every first Thursday of every month, the next Opera 101 course is Sept. 4 at 7:30 p.m. at Hotel Foster.
Skylight Music Theatre's artistic director Viswa Subbaraman intends for the events to be simply an intro into the world of opera so guests can slowly become more accustomed to the style.
"The music and its beautiful way to tell stories is what is most amazing to me," Subbaraman said.
Subbaraman wanted to become the artistic director for Skylight Music Theatre because it was one of the only companys he knew that incorporated musical theatre, opera and operetta. He officially became Skylight's artistic director at the start of the 2013-2014 season and hopes that guests become familiar with all of these facets of musical theatre and their different ways to share stories.
"The event is meant to be a fun, laid back way of approaching opera," Subbaraman said. "(Opera) isn't scary and is very easy to get into."
The idea for Opera 101, came to Subbaraman while working for his company Opera Vista in Houston.
"I hated the first opera I attended because I knew nothing about it in college," Subbaraman said. "I want to help people find a way to approach it."
Subbaraman first attended Duke University to become a doctor, like his father and grandfather, but developed a deeper passion for music while playing for the school's marching band. He pursued this passion by traveling abroad to expand his knowledge of the arts. After college, Subbaraman went on to become an assistant conductor of the Orchestre National de France.
In 2005, Subbaraman opened Opera Vista, an innovative contemporary opera company in Houston, where he helped to create the annual Opera Vista competition for new opera. While serving as the owner and artistic director there, he assisted with the world premiere of James Norman's "Wake," as well as the Texas premiere of Amy Beach's "Cabildo."
Since Subbaraman didn't get involved with the arts until his sophomore year of college, he strives to bring new people to the art form and break down its wall of exclusivity. He stresses to Opera 101 guests how opera serves as a beautiful way to tell stories, much like theatre.
"This 300-year-old art form with its stories can still be fascinating today," Subbaraman said. "We, as humans, haven't changed and can still relate to these stories about romance and triumph."