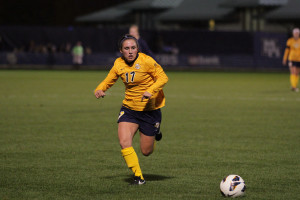 Marquette women's soccer suffered an unusually rough weekend when it lost both of its matches. The Golden Eagles lost to Minnesota 1-0 in Minnesota Friday, and then lost to Nebraska at home 3-2. With both of these losses, Marquette's losing stretch extended to three games.
Both Minnesota and Nebraska played very physical games, iconic for the Big Ten conference. Because of that physical style of play, Marquette (1-3) was unable to maintain a steady flow of offense, which is how the team succeeds.
Head coach Markus Roeders said playing teams that present challenges for Marquette will ultimately prove beneficial in the long term.
"The Big Ten probably does play a little bit different, but we still have more teams like that," Roeders said. "This is all part of preparation, and the level we're at, we need to and want to play these kind of teams."
It seemed the Golden Eagles had achieved a steady flow of offense in the first 65 minutes of the Nebraska match. Marquette netted its first goal in the 14th minute on a free kick from junior midfielder Jacie Jermier. The offense continued to get chances throughout the rest of the first half and into the second, when senior midfielder Alex Heffron headed in a cross to give Marquette a 2-0 lead. The offense had steady possession times, and Nebraska wasn't getting enough pressure to be a threat.
However, after the Golden Eagles' second goal, the physicality and intensity increased for Nebraska, and it completely changed the match.
Nebraska scored two goals in eight minutes, which knocked Marquette back on its heels. Nebraska continued its physical play and constant pressure, and it finally broke through in the 83rd minute, when Nebraska forward Jaycie Johnson scored her second goal of the game. She put a shot far post, past junior goaltender Amanda Engel, to give Nebraska the 3-2 lead and eventual victory.
The breakdown was characteristic of Marquette this season, as nearly all of the opponents' goals have come on defensive breakdowns rather than solid offensive play. Marquette nearly let in a back-breaker against Loyola-Chicago before the Golden Eagles had scored any of their three. In the losses to Northwestern and Nebraska, opponents capitalizing on poor defensive play sunk Marquette.
Playing a complete game is something that Roeders is looking for out of his squad.
"We know we're a good team, we just have to put the pieces together for 90 minutes," Roeders said. "Unfortunately, (against Nebraska), it was more about 65, 70 (minutes) and then it broke down for us."
The match against Minnesota was the game Marquette was closest to winning. The Golden Eagles had more shots on goal and more scoring chances than the Golden Gophers, but much like its fellow Big Ten teams, Minnesota capitalized on one of its few scoring chances. In the 59th minute, freshman Sydney Squires beat Engel to give Minnesota its only goal of the match. But again, just one goal was enough to beat Marquette.
Roeders said Marquette played well on the road but just couldn't capitalize.
"I actually thought we were pretty good at Minnesota," Roeders said. "We just didn't' score."
Marquette's recent stretch of losses is something new for a program that has been very successful in the past few years. Last season's squad lost just four games all season, the only home loss being the NCAA Tournament loss to Western Michigan. In fact, the last time the Golden Eagles lost three straight was in 2006, when Marquette lost to South Florida, Wisconsin – Milwaukee and North Carolina.
Roeders said that part of the rough beginning to the season is because of inexperience, but that will dissipate as the season goes on.
"We're a different squad and the elements are just different from what we've had in the past," Roeders said. "There's more chances for glitches and for things breaking down … we have to keep learning and keep getting better."
Marquette will look to end its losing skid against New Mexico Sept. 5 when the two teams participate in the Colorado College Classic.