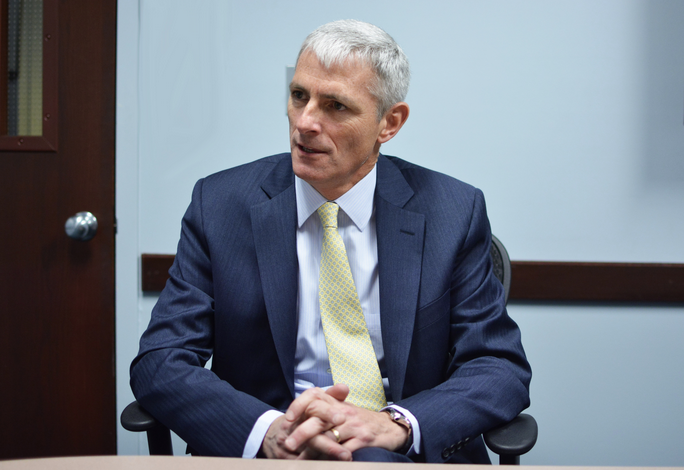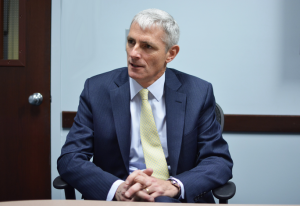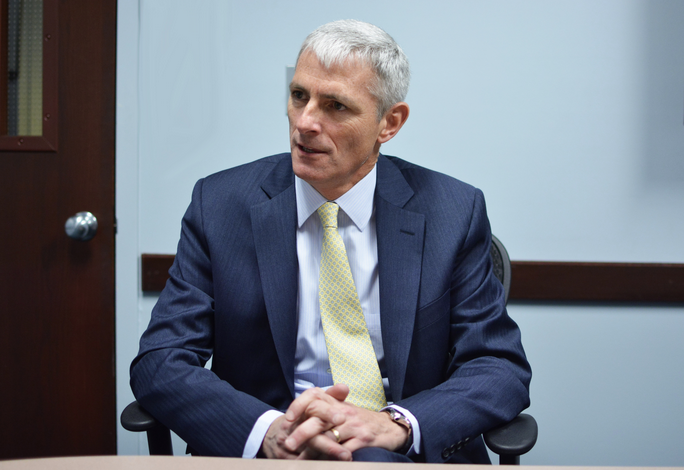 When Michael Lovell accepted his position as Marquette's first lay president this past March, there was excitement across Marquette's campus. Students, faculty and administrators over the past year were accustomed to big name departures on campus, so when Lovell was unanimously appointed by the Board of Trustees, it came as a relieving change of pace. Although Lovell only began his work a university president July 1, he has demonstrated a tenacity to openly interact with students and the Marquette community at large since day one.
Only days after the university announced Lovell would be its president, the president-elect sent out a school-wide email detailing his appreciation, excitement and plans for the future. In the email, Lovell noted that he would like to enhance "Marquette's reputation as a research institution," and that "raising Marquette's profile nationally" was "a priority."
And, after his first appearance in March, Lovell took "selfies" with scores of students who wanted to meet and pose with the university's newest hire. For some, it was an opportunity to meet the exciting public figure who would lead their university experience for years to come. For others, it was an avenue to voice opinions on what Marquette needs going forward; but to all, it was a clear demonstration of Lovell's interest in the campus demographic, especially students.
Although predicting the projects, events and actions Lovell might undertake during the 2014-15 school year would be speculative at best, transparency and visibility are overarching qualities that are likely to prevail.
For example, Lovell sent out an email explanation of his plan for university leadership on his first official day as president and, as a July 14 university-news brief revealed, now offers the opportunity for any Marquette-affiliated event or meeting to request his attendance. Steps like these are good signs that Lovell is eager to be a visible president on campus, and a visible president is likely to be active at on-campus events, sporting games and more. That type of visibility would mean more opportunities for communication between university leadership and students.
Communication engenders action, and action begets progress. Marquette students should not, however, expect immediate and blanket communication from Lovell on every account. If a new dean of the College of Business Administration is found or close to being found, it's not unreasonable for university leadership to refrain from speaking publicly on the issue until all matters are fully accounted for and personnel acclimated.
Lovell may not consistently voice his thoughts on every university development—that's to be expected. But moments of significant change on Marquette's campus or unforeseen shifts in the university's direction will undoubtedly be followed by Lovell's response, and that's when communication and transparency are most important.
In the past 12 months, Marquette saw almost a dozen high-ranking university officials depart with little warning. This academic year, that number will hopefully be zero, but Lovell's involvement will be defining. In whatever direction Lovell decides to take Marquette this year, expect him to continue being clear, vocal and direct to the Marquette community on the issues that matter.