MU declines to renew lease of Marquette Gyros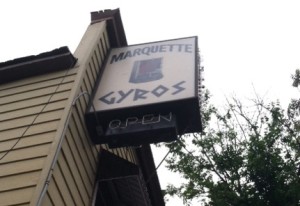 Marquette Gyros is known around campus for its late night cheese curds and greasy burgers, but Marquette students will need to find a new joint to go to after midnight as the university decided not to renew its lease with the business.
"After multiple meetings with the restaurant owner, it became 
clear that he could not reach the terms of his agreement," said Jenny Alexander, Marquette's director of purchasing, in a statement. "The university is exploring options for how the space will be used in the future."
The restaurant announced June 13 it will be closing its doors for good after  25 years on campus.
The restaurant's management declined to comment about its closure, but its announcement nonetheless sparked a wave of distress among students and alumni online.
"It was one of the first places I went freshman year and I have a lot of great experiences there since then," said Adriana Saia, a Class of 2013 graduate. "I'm sure many will agree with me that Marquette Gyros will be missed."
Many students expressed surprise at the news, noting that the restaurant, 1607 W. Wells St., usually seemed to be busy when it was open.
"With Gyros out of the picture, that's a minus one to the already low amounts of food choices within a walking distance of campus that aren't dining halls," said Jason Trovela, a sophomore in the College of Arts & Sciences. "I am just very distraught."
Rumors that the restaurant would close spread around campus in 2010 following the sale of Angelo's Pizza Restaurant and Bar, which now houses Sobelman's Pub and Grill at the corner of 16th and Wells streets. Dena Dallis, whose family owns Marquette Gyros, quelled those rumors, saying that the restaurant would be around for at least a few more years.
The restaurant will be hosting a farewell party on June 28 to celebrate being on campus since 1988. Its final day of operation will be June 30.