Golden Eagles land Loyola-Marymount transfer Levin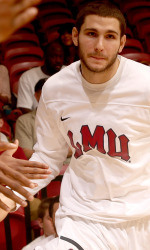 Men's basketball coach Steve Wojciechowski didn't have much success retaining the 2014 recruiting class Buzz Williams assembled, but he added his second transfer student of his Marquette tenure Tuesday by signing former Loyola-Marymount forward Gabe Levin. According to NBC Sports, Levin chose Marquette over fellow Midwest programs Northwestern and Notre Dame.
The 6-foot-7, 230 pound freshman will sit out the entire 2014-15 season due to NCAA transfer rules, but will have three years of eligibility remaining upon return. Originally from Oak Park, Ill., Levin was rated as a two-star prospect and was graded a 66 overall by ESPN.com. He averaged 11.1 points, 7.1 rebounds and just over a block per game last season. Levin also played more than 30 minutes in all but five games for the Lions.
Marquette's front court possesses only five players on the 2014-15 roster including center Luke Fischer, who is ineligible to play until December. Levin will fill a big need at the position for the 2015-16 season as he will replace senior Juan Anderson.
Levin has the size to play small forward and can log plenty of minutes if the Golden Eagles are still lacking depth at the position. He brings a lot of athleticism and has the talent to be a scoring threat, as shown by being the third highest scorer on the Lions last year.
Levin joins senior point guard Matt Carlino, who transferred from Brigham Young to Marquette in late April, as Wojciechowski's two transfer signings. Carlino will be able to play immediately and has a good chance of starting right away for the Golden Eagles.
Leave a Comment