KILLIAN: Farewell to the Trib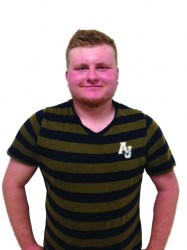 Before I even set foot in a college classroom, I covered my first Marquette sporting event as an employee of the Tribune.
I was a nervous freshman from Florida who'd been asked countless times why I'd chosen frigid Milwaukee as my collegiate destination rather than somewhere warmer and closer to home.
But after that game, a women's soccer match between the Golden Eagles and Auburn, I felt a profound reaffirmation of my decision that reoccurred after every story I posted on WordPress.
Four years and 269 articles later, to say my time at the Trib dramatically influenced my life and career would be an understatement. I'm proud to say I've never known a school week without writing for the Trib, and in many ways, it became just as important to me as my education.
I never had much interest in joining a fraternity, but in a sense, the Trib became my fraternity. It was remarkable to be in constant contact with so many people who shared a common, deep-rooted passion for journalism.
There are many I'd love to thank individually, but based on the limitations of my column space I can't come close to naming them all.
I will be forever grateful to Andrei Greska and Jeff Engel for giving me that initial opportunity to start right away. Working on the Trib as a freshman gave me a firm foothold to base the rest of my college career off of and plenty of opportunities to be the bane of managing editor Derrick Chengery's existence.
Jeff and Derrick's excellent leadership taught me a lot about what it takes to run and work in a newsroom. More specifically, a newsroom that produced the SPJ's Best All-Around Non-Daily Student Newspaper of 2010.
Covering my first men's basketball game, I remember feeling awestruck watching Darius Johnson-Odom throw down a tremendous dunk five feet away from me. I remember former Trib sports editor Mike Nelson telling me I'd get used to it. He was right, and it was one of many tips and tricks of the trade he passed along to me.
Along with basketball, I had a great time working with Coach Steve Bailey and covering the men's golf beat. Since Bailey's hiring my freshman year, it's been a lot of fun watching and reporting on the team's development into a top Big East program.
Finally, my coworker and former roommate Joe Kvartunas was always available for some harsh yet constructive criticism. Constantly competing with him over who the better writer was made both of us better as a result, and for that I am very thankful.
From watching courtside as the Golden Eagles fell one step short of the Final Four in 2013 to sitting in on head coach Steve Wojciechowski's opening presser, it's been truly special to report on some of the biggest Marquette sports events in recent history.
Wherever the Trib is headed in the future, I hope that it will continue to set a standard for college newspapers across the country.
It's going to be weird never seeing my name appear as a Trib byline again, but all I can say is I've enjoyed the ride and will never forget my experiences in the basement of Johnston Hall.