Marquette Golf finishes second at Big East Championships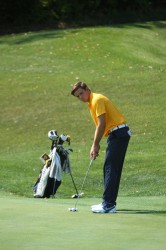 The Marquette men's golf team began its spring season with the lofty goal of winning the Big East Championship. On the final day at Callawassie Island, it nearly did.
After falling behind St. John's by 14 strokes heading into the back nine of the third round, the Golden Eagles rallied to dramatically close the gap to two shots with three holes to go.
The Red Storm, led by Ryan McCormick's stellar first-place effort, ended up winning the event with an overall score of 882, while Marquette finished in the runner-up spot with an 892.
After coach Steve Bailey disappointedly watched Marquette's chances of achieving its ultimate objective slip away late, he was, as always, proud of his team's accomplishment.
"It's unfortunate, but we're going to take a lot of experience from this," Bailey said. "I thought collectively our guys handled the pressure well, and everybody that traveled here is coming back next season. Looking at the overall season, we were ranked 180th at the start and now we're at 110th. I'm proud of that progress."
Bailey always preaches consistency from the top to the bottom of his lineups, and that came to fruition at the championships.
Led by junior Brandon Cloete, three Marquette golfers placed in the top 10 individually. Cloete scored a 5-over-par 221 to tie for fourth place, while sophomore Patrick Sanchez finished right behind him in sixth with a 222.
"We felt good because all we asked for was a chance to win it, and we gave ourselves a really good chance on the final day," Sanchez said. "It showed that all of us have the potential to shoot some of the top scores in the conference."
CJ Swift finished two strokes behind Cloete in a tie for seventh place, capping what was a standout year for the redshirt sophomore.
"If you look back at where CJ was his freshman year to now, he's made huge strides in development as a player and a more mature person," Bailey said.
Sophomore Zach Gaugert finished fourth for the Golden Eagles and 13th on the individual leaderboard, while fellow sophomore Nick Nelson rounded out the scoring for Marquette with a 232, good for a tie for 21st.
"(The solid top-to-bottom effort) is just a testament to the contagious atmosphere we've created, and the competitive nature of the tournaments we've played this year," Bailey said. "Our whole theme was to create positive energy, and the program has grown because of it. We're excited to get back to work."
The Golden Eagles played one of the toughest schedules in program history this season, and as a result, upped their level of competition both amongst each other and against their opponents.
But aside from taking steps on the golf course, Bailey is equally, if not more impressed, with his team's growth as human beings.
"Ultimately I look for our guys to grow as people and as players, and they grew in both of those areas this season," Bailey said. "The continued accountability of all our guys and the leadership they've shown has a lot to do with where we are now. I don't know that I had a bar set for this point when I started my Marquette career, but we've progressed as a program."
Leave a Comment