Most important Marquette Sports Stories of the year
Men's basketball's worst season in over a decade
In October, optimism ran high for Marquette men's basketball. Buzz Williams' squad entered the 2013-14 campaign as one of two favorites to win the new Big East alongside Creighton.
To say expectations were not met would be a major understatement. The Golden Eagles failed to get into any sort of rhythm, winning three consecutive games only once. After a season of brutal inconsistency, they finished 17-15 and 9-9 in the weakened Big East.
Without a dominant backcourt scorer like Vander Blue or Darius Johnson-Odom, the team's poor outside shooting was exposed all season and led to periods of complete offensive ineptitude. Junior guard Derrick Wilson did not make the transition from backup to starter, and senior Jake Thomas and junior Todd Mayo proved an inconsistent platoon at the shooting guard spot.
Senior center Davante Gardner had a few stellar games, but the weak guard play made it difficult for him to get consistent touches. He performed well enough to earn second team all-Big East honors. Besides Gardner, front court players like senior Chris Otule, junior Juan Anderson and sophomore Steve Taylor did not make the impact expected of them.
The biggest player failure came from senior forward Jamil Wilson, who Marquette needed to take his game to the next level. Wilson would vanish at times, could not stay out of foul trouble and relied heavily on long twos and ineffective three-point shooting.
With the 2014 recruiting class gutted, and returning players no longer accustomed to a culture of winning, new coach Steve Wojciechowski has his work cut out for him to return the program to prominence this winter.
– Patrick Leary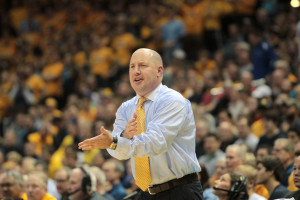 Exit Buzz Williams, Enter Steve Wojciechowski
The end of the Marquette basketball team's season was a roller coaster ride for Golden Eagles fans. As if missing the postseason for the first time in more than 10 years wasn't bad enough, head coach Buzz Williams announced he would leave the program for Virginia Tech and the Atlantic Coastal Conference March 21.
In the wake of Williams' departure, a muddle of baseless rumors and sourceless social media posts led to a great deal of confusion. Shaka Smart was infamously mistakenly identified as Williams' successor by several local news outlets.
Interim Athletic Director Bill Cords brought an end to the chaos by officially dispelling the claims and announcing he would remain at his position for another year at a news conference March 27.
Then, on April Fools' Day, Marquette announced it would hire longtime Duke assistant Steve Wojciechowski as the new men's basketball coach.
In his opening news conference, Wojciechowski promised he would build an atmosphere of trust at Marquette, leaving a great impression on local media and the student body. Coming from a school where basketball is held in such high regard, Wojciechowski looks like a great fit. He will have plenty of pieces to work with, but still has some holes to fill.
Despite losing two major recruits to Williams in Ahmed Hill and Satchel Pierce, Wojciechowski locked up BYU transfer Matt Carlino, who will join Marquette for his senior season.
Wojciechowski completed his coaching staff Wednesday with the hiring of Brett Nelson as an assistant coach. Nelson joined the list of newcomers Mark Phelps, Chris Carrawell and Director of Basketball Operations Justin Gainey.
While the departure of one of the most successful coaches in Marquette history left many fans with a bad taste in their mouths, the hiring of Wojciechowski during a major transition period for the university should provide a golden chance to restore stability to the program and improve the product on the court.
– Trey Killian
Undefeated Big East season for women's soccer
The Golden Eagles' first-round exit from the NCAA College Cup did not do their season justice. Marquette flourished in the Big East's inaugural season, finishing 10-0-0 en route to winning the regular season and conference tournament titles.
Defense was what helped Marquette stand out from the pack; the Golden Eagles allowed a mere 0.72 goals and 7.63 shots per game. They reeled off five straight shutouts in the heart of the Big East schedule. Sophomore goalie Amanda Engel had seven clean sheets for the season.
Any skepticism of Marquette's hot start was quickly silenced when the Golden Eagles humiliated No. 8 Georgetown 4-0 to win their seventh straight and create much-needed breathing room in first place.
Marquette's offense clicked throughout the campaign, and although the Golden Eagles racked up 52 goals in total, senior Maegan Kelly was the only player to score double-digit goals. Fifteen players scored overall, with 10 having multiple goals. Having the luxury of an abundance of weapons has been a Marquette staple for many of coach Markus Roeders' seasons at the helm.
As a No. 2 seed in the College Cup last December and having home-field advantage guaranteed until the Sweet 16, Marquette seemed poised for a deep run. The Golden Eagles were flustered by underdog Western Michigan in the first round and suffered a stunning 1-0 defeat, bringing the squad's historic season to an unforeseen early close. It snapped a 21-game winning streak at Valley Fields, and it was Marquette's first scoreless match since its season opener.
That should not take away from the extraordinary effort the seniors displayed throughout the fall. Kelly, Taylor Madigan, Cara and Emily Jacobson, Katie Hishmeh and Kate Reigle each made impactful contributions over their four years to get the program where it is today.
– Kyle Doubrava
Mitchell and Summitt's departures leave women's basketball in limbo
The Marquette women's basketball team came into the new Big East as a basement-dweller, expected to not be very successful. But the team took everyone by surprise, going 9-2 through the nonconference schedule and getting as high as No. 28 in the national rankings. But the team couldn't keep the momentum going, sputtering to an 11-7 Big East record, good enough for a fourth place finish.
The Golden Eagles went 1-1 in both the Big East and WNIT, which was better than in years past, but still not as good as the NCAA berth Marquette received in 2010.
In the offseason, coach Terri Mitchell surprised everyone by resigning from her position. Speculation is that Marquette forced her out of the position after poor postseason finishes in recent years or that the school didn't want to renew her expensive contract.
Naturally, the most likely person to take over the head coaching position was assistant Tyler Summitt. But one week before Mitchell's resignation, Summitt became the new head coach of Louisiana Tech, the second most successful program in women's basketball.
The search for a new women's head coach continues, and it just adds to the questions Marquette already has. With leading scorer Katherine Plouffe and key player Katie Young both graduating, the Golden Eagles will have big spots to fill. Junior Arlesia Morse, the team's sixth player and big spark plug off the bench, will most likely be able to fill in for some of the scoring Plouffe leaves behind, but there's no single person that sticks out in the mind after her. Junior Apiew Ojulu will most likely be the fifth member of the starting rotation.
But Marquette has to hire a new head coach and at least one more assistant and get comfortable with whoever it is before the season starts. And for a team with the top two scorers graduating, Marquette will most likely be in for a rough season again.
– Jacob Born
Historic men's soccer season paves way for future glory
With the World Cup just more than one moth away, one cannot help but think of the historic teams that have won the title. For Marquette, the men's soccer team made history of its own: its first NCAA Tournament win, its first share of the Big East regular season title, its first Big East Tournament win among others, all culminating in one of the most exciting seasons for Marquette soccer.
A star-studded cast, led by coach Louis Bennett, was destined for a greatness from the start. However, the team was slow out of the gate early in the campaign. The squad went 4-3-1 in nonconference play and was struggling to score.
When Big East play arrived, though, something just seemed to click. That was particularly the case for striker C. Nortey, who netted four game-winners in as many Big East games. A 6-2-1 record later, the team won a share of the regular season league crown. Then in the conference tournament, Adam Lysak lifted Marquette in overtime in the semifinals and the team won its first tournament title, defeating Providence 3-2.
While watching the selection show awaiting the team's drawing, expectations were great and spirits were high. Then Marquette drew a nine-seed against 2010 national champion Akron in what appeared to be a group of death. Luckily, the team had the home field advantage and in the 100th minute, a magical play started by a back heel from Lysak ended with a Coco Navarro volley that sent Marquette to the round of 16.
In the round of 16, Marquette looked like it would advance after Virginia earned a red card in the opening minute. But the Cavaliers played smart and eliminated the Golden Eagles, ending the historic campaign.
It was a season that will go down in the history books. A lot of talent graduated this year, but next year is sure to bring the same excitement as the team builds on its success.
-Drew Dawson
Leave a Comment