Wojo hires new director of basketball operations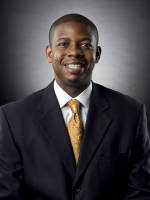 Steve Wojciechowski hired his third assistant coach Monday when he tabbed Justin Gainey as his director of basketball operations.
Gainey, who played college ball at North Carolina State, spent the last four seasons as an assistant coach at Appalachian State University in North Carolina.
"I have obviously been able to keep close tabs on Justin's career both as a player and a coach and am extremely happy to be able to add him to the staff at Marquette," Wojciechowski said.  "He is in possession of nearly a decade of experience in the collegiate ranks and knows what it takes to compete at the highest level having played at NC State."
Gainey played for the Wolfpack from 1996-2000, around the same time Wojciechowski played at Duke. He averaged 7.7 points and 3.1 assists per game in his career and was a three-year starter. He is best known for leading an eighth-seeded NC State team to the finals of the ACC Tournament in 1997 as a freshman. He never left the floor in the four-game run and was named to the all-tournament team.
After his college career, he played overseas in Austria and France before finishing his professional stint in the United States Basketball League.
In 2006, Gainey joined his alma mater's coaching staff as a an administrative coordinator. In the 2008-09 season, he was promoted to the same role he will fill at Marquette, director of basketball operations.
He left his alma mater in 2009 to spend one year at Elon, before heading to his most recent stop at Appalachian State the next season.  According to the Marquette athletics news release on his hiring, Gainey "helped develop the point guards and multiple players into all-conference performers under head coach Jason Capel." Capel's older brother Jeff was an assistant coach at Duke for the last three years alongside Wojciechowski.
Leave a Comment