"The Other Woman" adds humor to common cheating scenario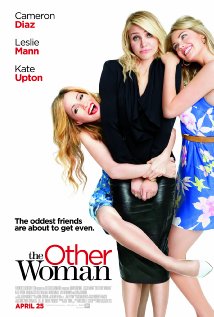 A wife and her husband's two mistresses come together to seek revenge against the man who has broken their hearts, and form the most unexpected group of friends in Nick Cassavete's comedy "The Other Woman."
When tough-as-nails lawyer Carly (Cameron Diaz) visits her boyfriend's home and unexpectedly meets his wife Kate (Leslie Mann), she vows to leave the two alone and change her dating ways. However, Kate insists her and Carly become friends and help each other get over the devious cheater Mark (Nikolaj Coster-Waldau).
After Carly finally gives up her attempts to push Kate away, she lets Kate into her apartment and the two bond over dresses, shoes, and tequila shots—how women's friendships are typically formed in romantic comedies. While keeping constant communication over ways to bring Mark down, the two discover another mistress Amber ("Sports Illustrated" swimsuit model Kate Upton). The two befriend Amber as well and include her in their operation for revenge.
Although Cassavetes is most known for directing melodramas such as "The Notebook" and "My Sister's Keeper" (also starring Diaz), he shifts over to a less intense, moere comedic plot with "The Other Woman."
However, the film lacks originality with its striking resemblances to "John Tucker Must Die," a high school romantic comedy where three teenage girls team up to get back at the campus heartthrob who is dating all of them at once. Both films even give the male cheaters hormone tablets so they develop female characteristics as one of the many pranks pulled.
For the most part, Cassavetes selected the perfect cast to bring the comedy to life. Diaz has impeccable comedic timing as Carly, while maintaining the image of a tough, independent lawyer who is just fine without a man in her life. Diaz's contagious smile also makes her character likable to audiences. On the other hand, Mann portrays Kate as Carly's polar opposite, a zany housewife who would do anything for her husband. This causes Mann to have a series of breakdowns after discovering her husband's affairs, similar to the meltdowns her character had in "This is 40." Mann makes her character equally as lovable as she is annoying through admitting, and ultimately embracing, her own weirdness.
Rapper Nicki Minaj makes her acting debut in the film as Carly's outspoken assistant. Although she played a minor role, her consistant ability to deliver laughs through her questionable advice to Carly makes her impossible to forget. Expect to see this rapper-turned-actress in more comedic chick-flicks to come.
Upton portrays mistress number two, Amber, as a dumb blonde who would cater to any man's fantasies. The film even features a scene where she runs across the beach in "Baywatch" fashion wearing a skimpy white bikini as Carly and Kate watch in envy. However, comedic queens Mann and Diaz often overshadow Upton. Upton's jokes often seem forced through her character's lack of personality, proving that she doesn't add much more than eye candy to the film.
The screenplay by Melissa Stack features many hilarious scenarios, as well as serious moments to provide balance to the film. Some of the more touching moments include the women acting as a support system by reassuring one another that they are better than the man who broke their hearts. Stack also packs the script with pranks and bizarre characters, such as Carly's hippie father on the prowl for younger women ("Miami Vice's" Don Johnson), to keep audiences entertained. Each scene transitions into the other by building onto the plot and leaving out any useless or boring dialogue.
The film provides a sense of female empowerment as the three women outsmart the man who saw them as nothing more than accessories, and proves that true friendship can overcome any heartbreak.