KILLIAN: Fast start a rewarding one for Brewers fans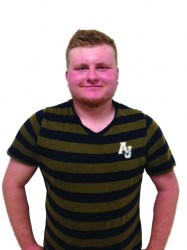 For the majority of the 2013 MLB season, Ryan Braun's scandal hogged the Milwaukee baseball spotlight. His exposure as a liar and user of performance-enhancing drugs lowered a dark cloud of negativity over the organization.
The emergence of Carlos Gomez as a top outfielder and other key offseason acquisitions, particularly the strengthening of Milwaukee's pitching staff, were overshadowed.
But a fresh start for Braun and a focused roster lifted the cloud.
Just three weeks into the season, the Brewers already reestablished themselves as the hot ticket in town. A Forbes.com article stated ticket prices have risen 19 percent since opening day.
At 16-6, Milwaukee maintains the best record in baseball, three games ahead of the St. Louis Cardinals in the NL Central. The offense has been decent, ranking 12th in runs scored with 86, but the pitching has been outstanding, as the Brewers boast a team ERA of 2.59, good for second in the majors.
It might seem hasty to put a lot of stock in a fast start to a 162-game season. But as evidenced by last season's playoff crop, good beginnings are indicative of good results.
The eventual world champion Boston Red Sox, as well as the Pittsburgh Pirates, Oakland Athletics and Atlanta Braves, all started strong last season and all made the postseason. It should be noted, however, that every quick start has the potential to fall apart: case-in-point, the Toronto Blue Jays.
In the MLB marathon, it's nice to distance yourself from the rest of the pack to provide a little cushion for the hitter's slumps, losing streaks and injuries that plague every season.
The recent suspensions of Gomez and catcher Martin Maldonado for their roles in Sunday's brawl with the Pirates demonstrate the unexpected setbacks and roadblocks that might occur.
Add those to the fact that the NL Central is one of MLB's deepest divisions with the rise of the Pirates and the steady success of the Cardinals and Cincinnati Reds.
That all makes alleviating pressure by winning games early all the more important, particularly for a team on the rebound looking to stay prominent and change its clubhouse's culture.
It's more than fair to say that the state of Milwaukee baseball is better than it was at this point last year. It's been a rewarding turnaround for a deserving and forgiving fanbase that's had its loyalty put to the test in the recent past.
Leave a Comment