Men's golf wraps up spring season at El Macero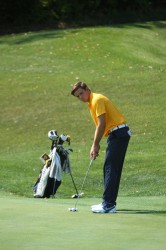 While some Marquette students were home celebrating the holiday break with their families, the Marquette golf team was busy wrapping up its spring regular season at the El Macero Classic in El Macero, Calif.
On Easter Sunday, the Golden Eagles finished eighth in the field of 12 beating out Idaho, Seattle, Boise State and Utah Valley with an overall score of 897. Host school California-Davis used its home course advantage to dominate the field, finishing 16 strokes ahead of runner-up California State-Fullerton with an overall score of 856.
Playing on the holiday weekend had no negative impact on the team, according to coach Steve Bailey, as it solidified Marquette's already strong sense of unity heading into the Big East Championship next week.
"We're a family, and we're used to traveling on the road together, so if anything it put us in a better mood," Bailey said.
Sophomore CJ Swift saved his best golf for last, as his even par 72 in the final round helped Marquette finish strong. He led his team with an overall score of 223 (7-over par), placing him in a tie for 17th on the individual leaderboard.
"Getting more exposure to the course as the tournament went on definitely helped," Swift said. "It had some tricks and turns and it took a while to get used to the wind."
Two other Golden Eagles recorded even par rounds as sophomore Nick Nelson also scored a 72 in the third round, and junior Brandon Cloete started his tournament with the same score. All three golfers placed in the top-30 individually.
Additionally, sophomore Patrick Sanchez picked up a 1-over par 73 in the second round and finished 34th, while sophomore Zach Gaugert rounded out the scoring for Marquette with a 14-over 230, good for 45th.
"It was nice to put together a decent final round as a team," Bailey said. "It's promising to know that all your guys can show up at some point."
Bailey added that while his team's putting numbers were up this season, Marquette will need to fine-tune its ball striking this week as it primes for tough conditions.
Bailey said the fast and narrow greens at El Macero were good preparation for the Callawassie Golf Club, the site of the Big East Championship. Located in Callawassie Island, S.C., the course will likely feature strong ocean winds, which the Golden Eagles tasted this weekend in California.
Leave a Comment