Panelists discuss infant mortality plaguing MKE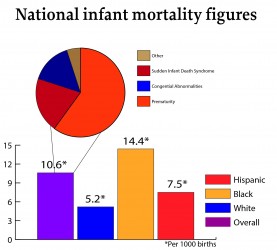 Bevan Baker, the Milwaukee commissioner of health, pleaded with a crowd in the Alumni Memorial Union ballrooms Monday to address the issue of infant mortality in the city.
"If we never talk about it, if we don't wash dirty linen, no one is going to be clean," Baker said of the problem. "This is our dirty linen."
Four experts on health and infant mortality discussed the consequences of Milwaukee's high infant mortality rate at the College of Nursing's 2014 health forum Monday, moderated by "On the Issues" host Mike Gousha.
The 2013 Fetal Infant Mortality Review showed the extent of the problem in Milwaukee, especially in the 53233 area code, which encompasses Marquette's campus.
Overall, Milwaukee's infant mortality rate dropped six years in a row, but still remains at critical levels, the report said. More than 10 infants died per 1,000 live births from 2009 through 2011.
The problem is especially acute for African-American babies, who die at nearly three times the rate of white babies in Milwaukee.
The panelists at the forum included Baker; Mary C. Mazul, director of population health management for Wheaton Franciscan Healthcare; Nicole Angresano, the vice president of community impact for the United Way of Greater Milwaukee; and Kathlyn Albert, the service director of the Marquette Neighborhood Health Center.
Baker started out the panel by saying much of the reason the 53233 area code has such a high infant mortality rate is due to institutional racism and segregation that has plagued Milwaukee for decades.
"We can't consistently be one of the most segregated cities in America and not have byproducts of that," Baker said.
He added that Milwaukee looks the other way when it comes to infant mortality, but with media coverage the issue became more prevalent.
Baker said certain groups are not as aware of the problem as they might be if the city was less segregated.
"It's easy to drive by disparities that are in this community, we have to deal with this notion that we can't live together," Baker said.
Albert said education needs to be the key to lowering the rate of infant mortality. She noted that the Marquette Neighborhood Health Center uses a technique where women go to doctor's appointments and other events during the gestational period in groups as opposed to going alone.
"We've been using this model of care for 18 months, we've had 52 full term births and no primary cesarean sections," Albert said.
Mazul added that the city needs to have a culture shift if the infant mortality rate is going to go down. Angresano said part of the culture change needs to be a fundamental misunderstanding of why infants die prematurely.
"People think babies are dying because of co-sleeping," Agresano said. "Babies are dying because they are born too small, too soon."
Angresano said one of the misconceptions of infant mortality is that infant mortality occurs only with low-income, uneducated teenage mothers who sleep with their babies, but this is not true. Sixty percent of infant mortality deaths have to do with infants being born prematurely, not co-sleeping.
Angresano also said African-American mothers with graduate degrees have a higher rate of infant mortality than white women who are high school dropouts.
When compared globally, Milwaukee's infant mortality rate is worse than 77 other developing countries and the city has a worse black infant mortality rate than cities with similar racial makeups such as New York City, Louisville and Memphis. Yet Milwaukee's white infant mortality rate is lower than the national average.
Wisconsin is ranked 49th in the last decade for public health care financing, and Milwaukee is in the top six counties in the country when it comes to high infant mortality rate.
Steven Thompson, a sophomore in the College of Engineering who attended the event, said students especially in the Marquette community are unaware of the problem.
"To fix this, Marquette can do what they do best and educate the community by holding info sessions that are open to the community, like this one, and can educate students in that regard," Thompson said. "I feel that people are aware of what infant mortality is but not the actual statistics and their correlation to the cities that are producing the statistics."
Leave a Comment