Wojciechowski brings prestige to Marquette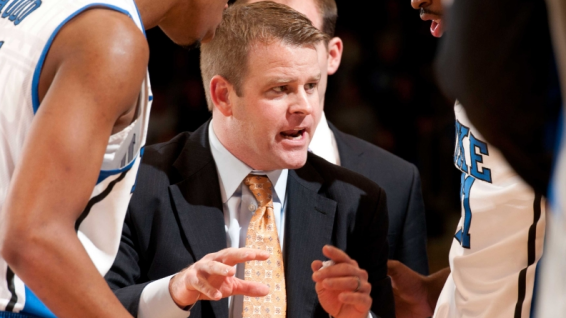 Hang on for a minute...we're trying to find some more stories you might like.
Marquette has selected Buzz Williams' successor, as sources reported Tuesday. The university will hire longtime Duke associate coach Steve Wojciechowski 12 days after Williams left for Virginia Tech.
An impressive resume and, as Marquette basketball news source Paint Touches reported, an interview that blew university officials away helped Wojciechowski stand out in the crowd of potential suitors.
While lacking experience as a head coach, Wojciechowski is one of the most recognizable figures in the collegiate game as an associate coach. He's been a part of a program that has produced winning, successful teams for the last 20 years and coached at arguably the highest level possible, helping Team USA to an Olympic Gold medal in 2008.
The hire is good news for players like rising junior Steve Taylor Jr. and sophomore Luke Fischer who will benefit from Wojciechowski's experience working with the nation's top collegiate forwards.
At Duke, working with the Blue Devils' frontcourt was one of Wojciechowski's main responsibilities, as he recently helped develop NBA talents Miles and Mason Plumlee and Ryan Kelly. For a roster losing frontcourt fixtures Chris Otule and Davante Gardner, the hire will likely go a long way toward quickly establishing their replacements.
Duke annually accumulates one of the country's best recruiting classes, and while legendary coach Mike Krzyzewski is undoubtedly the reason for that, it will be intriguing to see how much of that recruiting prestige will follow Wojciechowski to Marquette.
Williams' recruits will all have the opportunity to meet with Wojciechowski before being granted, if requested, release from their scholarships and national letters of intent. Wojciechowski's first big test will be convincing some, including Sandy Cohen III, to stay on with the Golden Eagles. Cohen III asked for release shortly after Williams' departure, but was informed that went against the program's policy and apologized.
Marquette's initial interest in Wojciechowski was reportedly sparked by former Blue Devils assistant Chris Collins' first season as Northwestern's head honcho. Collins, who spent 13 years with Duke, coached the Wildcats to a 14-19 record in 2013.
Turning assistants into head coaches has brought the Golden Eagles plenty of recent success. Marquette hired Michigan State assistant Tom Crean away from the Spartans in 1999 and promoted Williams, one of Crean's assistants, in 2008. With Crean and Williams combined, the Golden Eagles enjoyed a record of 329-165 and 10 NCAA Tournament appearances including one Final Four appearance (2003) and one Elite Eight appearance (2013).
As impressive as those numbers are, Wojciechowski was part of a Duke program that hasn't missed the NCAA tourney since 1994. Reeling from a 17-15 season in which it missed out on postseason play for the first time in more than 10 years, Marquette made an appealing move for a program that has established NCAA appearances as a standard.
While former Krzyzewski assistants haven't fared particularly well as head coaches, Wojciechowski is the longest-tenured one to ever make the move. He's served literally and figuratively as Krzyzewski's right-hand man and will likely bring a lot of the assets with him that led to such a successful run at Duke.