Martin, Wojciechowski emerge as candidates for MU coaching gig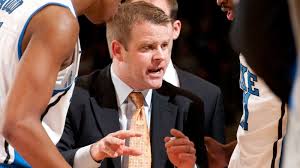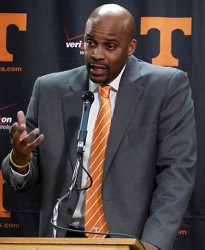 Tennessee coach Cuonzo Martin and Duke assistant Steve Wojciechowski have been identified as Marquette's two top candidates to replace Buzz Williams as men's basketball head coach.
ESPN reported that Martin met with Marquette officials Sunday, while sources informed Yahoo Sports of the university's interest in Wojciechowski the same day.
Martin's buyout with Tennessee will decrease from $2.6 million to $1.3 million today, which would potentially help Marquette's chances of landing him.
This season, the six-year head coach made a statement in his NCAA tourney debut as his Volunteers reached the Sweet Sixteen after opening the tournament with a win over Iowa in the First Four. Martin previously coached Missouri State to a Missouri Valley Conference regular season championship in 2011 and was named the MVC Coach of the Year that season.
He was hired by Tennessee as Bruce Pearl's replacement in 2011 and led the Volunteers to two NIT appearances in his first two seasons in Knoxville, Tenn.
While he may lack Martin's experience as a head coach, Wojciechowski is a part of one of the most successful college programs in the country in the last 20 years. As a player, he helped the Blue Devils to an 87-44 record from 1994-1998, earning NABC Defensive Player of the Year honors during his senior season.
After playing professionally for one season in Poland, Wojciechowski began his career as a coach under Mike Krzyzewski in 1999. He was named to his current position, associate coach, in 2008 and works primarily with Duke's frontcourt, developing recent NBA players such as Mason and Miles Plumlee and Ryan Kelly.
During his coaching career at Duke, the Blue Devils won NCAA championships in 2001 and 2010, reached the Final Four three times (2001, 2004, 2010) and secured eight ACC tournament championships (2000-03, 2005-06, 2009-10).
Wojciechowski also coached under Krzyzewski at the 2008 Summer Olympics, helping Team USA to a gold medal.
The interest in Wojciechowski is reportedly due to the success of one of his Duke colleagues, Chris Collins, at Northwestern.
However, Marquette interim athletic director Bill Cords has made public his stance that his program is not a "stepping stone" which could play into deciding whether Wojciechowski would be a good fit.
Having spent so much time at Duke, Wojciechowski has been speculated as Krzyzewski's eventual replacement, meaning Marquette could end up being a resume-builder for him rather than a long-term option.
Martin could be classified as an up-and-comer, and Marquette would be the most prestigious job he's had thus far. His achievements may place him above other candidates such as former Marquette player and Green Bay coach Brian Wardle.
Martin and Wojciechowski both have developed reputations as high-intensity coaches throughout their careers and accumulated the types of results Marquette is hoping for.
Reports maintain that former UCLA head coach Ben Howland is still in the mix and very interested in the position. Another potential candidate, Syracuse assistant Mike Hopkins, met with Boston College Saturday presumably to interview for that job.
Leave a Comment