Badgers, Ducks roll at BC in NCAA Second Round
The first session of NCAA Tournament second round games in Milwaukee, Wis. featured very little drama. Both contests saw solid spurts from the lower seeds in the first half, but the higher seeds ended up flexing their muscles to pull away in the final 20 minutes.
As expected, second-seeded Wisconsin played in front of an overwhelming home-court advantage as nearly 17,000 Badger fans packed the BMO Harris Bradley Center.
After Frank Kaminsky helped Wisconsin to an 8-2 start, John Schoof and Darius Gardner rallied American sparking a stunning 17-5 run.
A jumper from Tony Wroblicky put the Eagles up by six points with 8:48 to play in the half much to the befuddlement of the sea of red in the stands.
Sam Dekker and Ben Brust stepped up for the Badgers, however, as Wisconsin closed the half on a 19-3 run, reversing the momentum and taking American out of its slow-paced, defensive style of play.
"We knew coming out they were going to hit some shots early," freshman Nigel Hayes said. "We made a few mistakes – we went under a couple screens, we switched things we shouldn't have which gave them shots, and they knocked those shots down. During the timeout we knew that we had to correct those mistakes and did a much better job after that."
After the break, it was all Bucky. The Eagles would score just 13 points the rest of the way, while Bo Ryan's team turned a short-lived thriller into a laugher. Wisconsin rolled into the second half as it quickly built its run to 50-9, showing no mercy and leaving American in the dust.
"It was just ball pressure, and not letting them get any of their backdoor cuts," Kaminsky said. "We really frustrated them and made them take some bad shots."
Junior Traevon Jackson led the Badgers with 18 points, while Brust knocked down four of Wisconsin's 10 3-pointers. Dekker also stood out with 11 points and a team-leading six rebounds. Wroblicky and Schoof led American with 11 points each, with Schoof hitting three of five attempted treys.
"It was an awesome experience to play in the tournament," Schoof said. "We were looking forward to the game the most and wishing it turned out a little better. But, it was a great year, we won the Patriot League Championship. All year we took the season one game at a time, and it's sad it's over."
In the 75-35 rout, Wisconsin came away with its largest margin of victory ever in the NCAA Tournament, surpassing a 24-point win over Montana in 2011. American's 35 points were a season low, as they made a total of three shots from the field in the second half.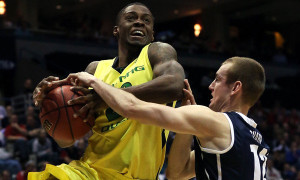 Bucky's next opponent, the Oregon Ducks, handled Brigham Young in the second game of the double-header. The Ducks would take a 4-2 lead early and never look back, but the Cougars kept the game interesting with a few rallies.
Down 52-42 with 14:04 left in the game, the Cougars put together an 11-4 run thanks to a pair of threes from junior Matt Carlino. With the deficit down to three points, however, Brigham Young could not sustain momentum, and redshirt sophomore Elgin Cook helped Oregon break away again to finish the game on a 22-6 run.
Cook finished with a game-high 23 points off the bench and combined with forward Richard Amardi to pull down 16 rebounds.
"It's definitely special to me confidence-wise, but overall it means nothing," Cook said. "We're not satisfied, we haven't won anything yet."
The Ducks displayed great depth in the win, picking up 49 bench points in a game that saw 14 Oregon players put in minutes.
The Cougars sorely missed lead scorer Kyle Collinsworth who went down with a torn ACL in the West Coast Conference tournament.
"Kyle, he's a guy that you can't replace, and he brings so much to our team but, you know, even with him out, I thought we had chances to win this game," junior Tyler Haws said.  "We cut it to three, and I thought we had momentum, and guys stepped up. Even when shots weren't falling, they stayed in mentally.  So, even with him out, I'm proud of the way we fought and thought we had our chance."
Haws led BYU with 19 points, while Carlino and Eric Mika combined for 30. The high-powered Cougars shot just 37.9 percent in the second half, while the Ducks knocked down 15 of their 27 second-half field goals.
After a pair of impressive performances, Wisconsin and Oregon will play a 2012 Rose Bowl rematch in the third round in what promises to be an exciting, fast-paced spectacle.
Leave a Comment