Golf finishes 11th against toughest field in years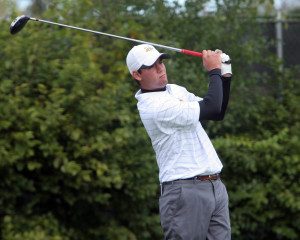 The Marquette golf team may have only finished in 11th place at the National Invitational Tournament in Tucson, Ariz., but coach Steve Bailey couldn't be happier with his team's performance.
The Golden Eagles competed in what Bailey described as "arguably the toughest field that the Marquette golf program has faced in its history," featuring eight of the top 40 teams in the nation.
With an overall score of 874, Marquette finished higher than two teams, New Mexico State and Texas – El Paso, both of whom were ranked higher heading into the tournament. It also finished just five strokes back of Texas A&M, which was ranked as high as No. 6 this season.
"The fact that we're beating New Mexico and finished five back of Texas A&M says a lot about the direction our program is heading," Bailey said. "I saw a lot of promising stuff from our guys this week."
Bailey said his biggest takeaway of the tournament was Marquette's back nine in the third round. After a rough nine-over-par start, the Golden Eagles played six-under on the final nine holes, rallying to a three-over finish to pass several teams and place two shots behind San Diego.
What stood out most to Bailey was his team's ability to put aside its individual bad starts and commit to the concept of "doing it for the team" in the final round.
"At some point, we had every one of our guys shoot under-par or no higher than one-over," Bailey said.
The most impressive individual performance may have been junior Brandon Cloete's final nine, in which he overcame a few early double-bogeys to finish at a two-under 70.
With an even-par cumulative total of 216, Cloete tied for 28th place with redshirt sophomore CJ Swift. Swift's overall performance, meanwhile, was a drastic improvement from his struggles at the South Florida Invitational.
"CJ was steady all week long, and I'm especially impressed with how he responded from last week," Bailey said. "He had 10 birdies and played just really steady golf, and he didn't make many mistakes. The big change for him has really been his putting, which has made huge strides."
From a team perspective, Bailey did mention the familiar need to maintain consistency. He said a rough second round overall hurt his team's chances at an even better finish against the difficult field.
As a whole, however, the showing marked another impressive step for the program as it prepares for the Big East Championship.
The Golden Eagles hope to build on the momentum of their big third round at their next event, the Hawkeye Invitational, which starts April 12th.
Leave a Comment