KILLIAN: Big East Tourney win possible, but implausible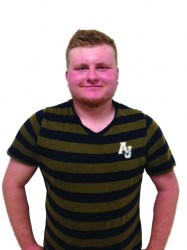 If the Golden Eagles were in their current situation a year ago, it would be a no-brainer to completely write off their NCAA chances.
While Buzz Williams' team has not won consistently in any fashion, winning the conference tournament isn't nearly as taxing as it used to be.
When the Big East reformed, becoming smaller and less talented all-around, it removed a lot of the prestige surrounding its highly-anticipated tourney. But what is viewed as a collective negative for the conference could now work to Marquette's advantage.
As Connecticut showed in 2011, anything can happen at Madison Square Garden in early March. Granted, Marquette doesn't have anything close to a Kemba Walker, but it also doesn't have to gut out five victories in five days.
The Golden Eagles are at least guaranteed a first-round bye, meaning they need to win three consecutive games. Marquette has won three Big East contests in a row this season, knocking off Butler, Seton Hall and Xavier in early February.
But that's hardly comparable to the challenge presented by the tournament. The Golden Eagles will play without days off or the home court advantage they enjoyed against the Bulldogs and Musketeers in that stretch.
Then there's the team itself, which by Buzz Williams standards still hasn't captured that defining moment. The 2013-14 campaign has been one mostly bereft of the gut-check victories Marquette fans are accustomed to.
You could say this team doesn't have the edge or chip on its shoulder it had the previous three years, but the potential still exists for an all-or-nothing turnaround.
Tuesday's heartbreaking double overtime loss to Providence did at least show the Golden Eagles are playing with some grit after being embarrassed by Villanova the previous game.
Players like junior Todd Mayo and seniors Davante Gardner, Jake Thomas and Jamil Wilson have all had standout moments this season. But they've been just that: moments. Any one of them could have a big game but then come out ice-cold in the following matchup.
Imagine if Marquette could get three complete efforts. Three games where players like Wilson and Thomas make their first-half shots and space out the defense, allowing Gardner and Mayo to take over in the second half.
At this point, it's purely speculation, and this team is difficult to speculate about given its inconsistency.
There were ample opportunities to worry about RPI wins and impressing the NCAA selection committee, but none of that matters anymore. Now, it's all about winning or going home, or in this case, to the NIT.
That might help simplify things for Buzz Williams' squad come next Thursday.
Leave a Comment