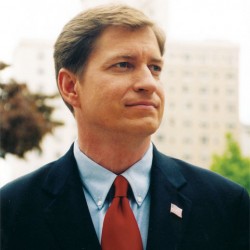 State Rep. JoCasta Zamarripa (D) and Sen. Tim Carpenter (D) are optimistic their legislative proposal to eliminate Wisconsin's constitutional ban on same-sex marriage will have a positive effect — even if it does not receive a vote.
Zamarripa and Carpenter unveiled their proposal at a Feb. 13 press conference. Their suggested amendment would eliminate the same-sex marriage and civil union ban. 
However, if Zamarripa and Carpenter's proposal succeeds, same-sex marriage would not be immediately allowed in Wisconsin. Further proceedings and legislation would be needed to legalize marriage equality in the state.
In order to pass, the proposal, which did not receive Republican support, must be approved by lawmakers in two consecutive sessions and then by Wisconsin voters in a referendum.
Ryan Pawlowski, a sophomore in the College of Business Administration and president of Marquette's Gender Sexuality Alliance, said he thinks what Zamarripa and Carpenter are doing is admirable, and hopes it succeeds.
"Due to the current political make-up of Wisconsin government, I, unfortunately, don't think that (Zamarripa and Carpenter's) efforts will produce much law changing," Pawlowski said. "However, it will help in the effort of spreading the word about LGBT rights and showing people that there still is a lot of work that needs to be done."
The GSA has no plans of taking action in relation to eliminating the same-sex marriage ban.
Although their legislative proposal is only two weeks old, Zamarripa and Carpenter are facing considerable opposition – especially from Assembly Speaker Rep. Robin Vos.
"It's tough to hear folks like Speaker Robin Vos say that this is a stunt, that it's not sincere," Zamarripa said. "Unfortunately, I don't see Republicans moving on this issue."
Still, the setbacks do not deter Zamarripa's determination to create change and inform Wisconsin.
"Even if it doesn't get the legislative vote it deserves, I believe this is an opportunity to educate the public, the press and our colleagues on the other side of the aisle," Zamarripa said. "I always hold out hope that we'll see equality in Wisconsin one day."
This issue is appearing different states across the country, most recently in Texas where the same-sex marriage ban was dissolved Wednesday. Additionally, three of the four states surrounding Wisconsin – Illinois, Iowa and Minnesota – have legalized same-sex marriage. Michigan is the only state bordering Wisconsin that has not.
"It's a stark visual to see that Wisconsin is surrounded by states that celebrate their LGBT families and have marriage equality," Zamarripa said.
One of the main concerns behind Zamarripa and Carpenter's proposal is that the marriage equality ban could contribute to a "brain drain" in Wisconsin, which involves a large amount of young adult professionals leaving the state to pursue careers elsewhere.
"We have a lot of young, college-educated professionals leaving the state," Zamarripa said. "So the population grows older and we're not acquiring young professionals because they want to see that we're an equality state for everyone."
However, with college graduates facing a competitive job market, the "brain drain" may be more speculation than reality.
"Due to the economy and employment prospects for recent graduates, I think that I will be happy to have a job and if it is in Wisconsin then the gay marriage ban will not have a huge effect (on my job choice,)" Pawlowski  said. "But in five to 10 years from now, as I reach a point in my life where marriage and settling down is becoming more of a reality, I would likely move to a state where my marriage is recognized fully."