Ocean Street album review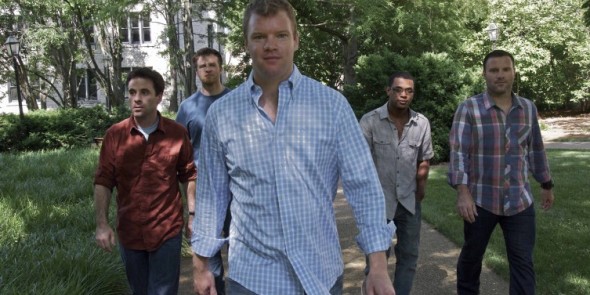 (New) Music Makes Me Lose Control
-Album Reviews for Inquiring Minds-
Band- Ocean Street
Album- Ocean Street (Hey it's self-titled!-EP)
Ten-Second Bio- Ocean Street is an Atlanta based, Nashville central band that has toured over 200 shows a year for the last couple of years, ranging from the U.S. to Germany.  According to the band's website, this is their second studio release and was produced by Norbert Putnam, who has worked with Elvis Presley, Jimmy Buffet, Dan Fogelberg, and Joan Baez among others.
What Can My Ears Expect? – Maybe it could be attributed to the fact that the sun was finally shining outside, and that the frigid Milwaukee weather had finally begun to sniff 40 degrees, but for whatever reason this album put me in a really good mood. Composed primarily of lead vocalist, Andy Kropf and piano/keyboardist, Mark Kovaly, Ocean Street's sound was right up my alley on almost every track.  My personal comparison of Ocean Street lies somewhere at the intersection of Blues Traveler, Counting Crows, and Barenaked Ladies, with a little bit of Rob Thomas for good measure, all of who I enjoy.  The bands collage of backing instrumentation mixed with Kropf's distinct vocals lead to the perfect soul-rock combo, and on tracks such as "I'll Forgive You", a strong chorus line combined with a memorable guitar riff leave me wanting more from this band.  Additionally, "Que Lo Que" brings the quirky side of the band out with a bilingual ditty.  Overall, I was very impressed with Ocean Avenue, and if the band can continue to grow, I think they will break into the mainstream music fans' conscious.
What Will Their Words Say?-Ocean Avenue's songs have the summertime feeling of Zac Brown Band and their songs of beachfronts and relationships you just can't forget should put you under the sun with a cold beverage in your hand.
Target Audience-The band draws comparisons to Fastball, Elton John, and Ben Folds Five
Key Tracks from Ocean Street – "I'll Forgive You" (track 1), "Que Lo Que" (track 3), "Back to Me" (track 6)
Say What? (profanity) – "Stay With Me" (track 4)
Grade: Solid 9. 3(out of 10)
Leave a Comment