Men's Big East Notebook, Feb. 18
Player of the Week: Doug McDermott, Senior Forward, Creighton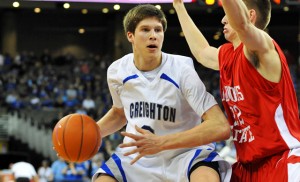 When looking at McDermott's game-by-game stats, he could be considered Player of the Week almost every week. But the senior's performance in Creighton's last game was particularly impressive, as it signaled a major power shift at the top of the Big East. After dropping 26 points in a 68-63 win over Butler Thursday, McDermott led the Bluejays to a season series sweep of No. 9 Villanova, tying a season-high with 39 points. In the 101-80 rout, McDermott knocked down 13 field goals, including four 3-pointers, and made nine free throws.
Game of the Week: Creighton at Marquette, Feb. 19, 7 p.m. CST
Marquette is riding its first Big East win streak of the season and to keep it alive, it will have to slow down the arguably hottest player in the nation, Doug McDermott. The Golden Eagles have played well at home and this is a huge opportunity for Buzz Williams' squad to pick up a quality win. Creighton, meanwhile, could further establish itself as the top team in the Big East with a tough road victory.
Big wins keep St. John's in the thick of things
Steve Lavin's crew picked up two more big victories and currently sit at 7-6, in a tie for fifth place in the conference with Providence. The Red Storm eked out a 68-67 win at Seton Hall Thursday night, then crushed Georgetown 82-60 at Madison Square Garden. After D'Angelo Harrison's tremendous dunk tied the game at 67 Thursday, Chris Obekpa knocked down a clutch free throw with 2.1 seconds left on the clock to seal the victory. It was the Red Storm's first road win against Seton Hall since 1998. Saturday was a breakthrough for highly touted freshman Rysheed Jordan, as the guard picked up a career-high 24 points in the rout of Georgetown. Harrison matched his freshman counterpart with 24, while JaKarr Sampson scored 12 to lead St. John's to its fifth-straight win. The Red Storm is one of the hottest teams in the conference and with every win, its NCAA Tournament prospects seem more and more realistic.
Providence still in the hunt, Georgetown fading
Last week perpetuated two big surprises this season as the Hoyas struggled and the Friars kept their postseason chances alive. Providence had six players score double-digits in an 84-61 win over DePaul. Bryce Cotton picked up 22 points and six assists in the win, continuing his impressive season. A hot shooting start in which the Friars knocked down 10 of their first 11 field goals led to the easy win over the dismal Blue Demons. Georgetown suffered a blowout loss at home to the streaking Red Storm, as it sank to seventh in the conference at 6-7. The defeat was a huge setback for the Hoyas as they saw a four-game win streak snapped and their inability to get above .500 continued. While Georgetown has the talent to compete with anyone, as shown by a recent win over Michigan State, it has not come together consistently for the Hoyas in this season's conference play.
Leave a Comment