How to shop for vintage the right way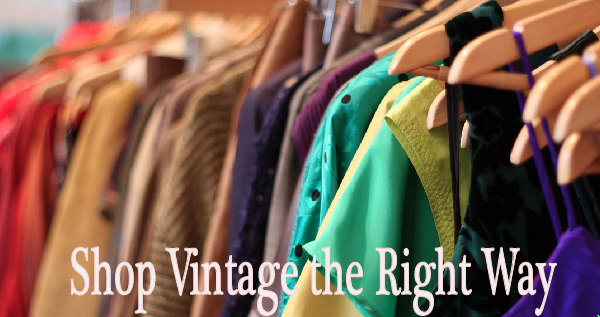 Although shopping for vintage isn't as easy as a quick drive to the mall or a quick click of the button to online stores. Shopping vintage takes a little more time and effort. However the results are well worth it. One advantage to wearing vintage is that the probability of someone wearing the same thing as you is extremely low.  We've all experienced it or have witnessed it. Whether it was prom or when going out with friends, you see someone wearing the same thing as you. You can  imagine then how valuable a one-of-a-kind vintage piece can be in your wardrobe. It is truely unique and special. I remember I would always wear my grandmas peals and her scarfs from the 1960s when going out with friends. I always take pride when my friends would ask where I got them from, and I would have to tell them they were vintage. I even still use my mothers purse from the 1980s when I go out with friends, giving me a unique look that can't be replicated!
When shopping for vintage there are a few places to turn to. Where to shop vintage in Milwaukee: Dragonfly Vintage Goods gifts is located at 1117 East Brady Street, and The Closet Classic Caffeine is located at 1000 East North Avenue. These stores do a lot of research to find the best quality of vintage clothing. However, this kind of vintage shopping comes with a steep price tag. Another good place to look for vintage is at thrift stores on the east side of Milwaukee and the Third Ward.  If you have more time and are willing to go on a vintage hunt, places like Goodwill, and Salvation Army, or even a local flee market are just a couple of places were you can find some amazing steals. However, this means rolling up those sleeves and digging through piles of clothes. Even at Goodwill they have old unique jewelry that give your weekend outfit just that extra something to make your out "chic proof".
When you find a Vintage clothing item you must then decide if it is worthy enough to be in your wardrobe. Also ask yourself "Am I really going to wear this?" If the answer is no then don't buy it, you don't need to fill your closet with unnecessary clothing pieces. One thing to avoid is stains, or holes in the clothing. You never know how long its been there!
Key hint: With vintage clothes comes the old vintage smell. There's no point in buying vintage if it makes you smell stinky when wearing it. Therefore here are just a couples tricks of getting rid of the smell.  A musty mothball odor can normally be eliminated by Fabreze or putting it in the dryer with a couple fragrant fabric sheets. Or you can seal clothes in a laundry bin with a couple of scent soaked cotton balls at the bottom of the bin. Make sure to let the clothes sit in the bin for a couple of days in order to soak up the scent!