Marquette, Thomas shoot down Xavier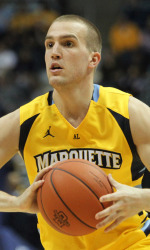 Something about playing Xavier gets Jake Thomas in a good mood, and Marquette has no problem with that.
Thomas scored a Marquette career-high 18 points on six 3-pointers to guide the Golden Eagles (15-10, 7-5) to an 81-72 win over the Musketeers (17-8, 7-5) Saturday on National Marquette Day. Jamil Wilson and Davante Gardner each scored 16, and Todd Mayo had 13 points and six assists.
Justin Martin led Xavier with 20 points and seven rebounds. Leading scorer Semaj Christon, who had 28 points the last time the teams met, was held to 10 points and committed five turnovers.
Thomas' previous best was 17 points at Xavier Jan. 9. The senior made five 3-pointers in a losing effort.
"I think that was just a random thing," Thomas said. "Just been working on my shot a little more. Usually I don't miss left and right. I was doing that the last couple of games."
Derrick Wilson quietly put together a sound outing with nine points, four assists and a career-high six steals.
Marquette forced Xavier to 19 turnovers, resulting in 27 points. The backcourt duo of Mayo and Derrick Wilson was keen on reading passes and swiping the ball from Xavier's post players. Thomas and Jamil Wilson were frequently open in transition for their easy makes.
"I thought their energy level on the defensive end unnerved us, rattled us," Xavier coach Chris Mack said. "We knew that coming in taking care of the ball was a big concern of ours, but give Marquette credit, they did a great job. To me, that was the difference of the game."
Marquette coach Buzz Williams credited Mayo and Derrick Wilson for having excellent court vision to create space for Thomas and other wing players.
"They face guard Jake … he's used to that, but whether you can shoot or not shoot, you have to have space,"  Williams said. "I thought Todd, particularly in the half court, was phenomenal at creating space for (Thomas). I thought Derrick in transition was as good as he's even been at creating space for him."
The Golden Eagles took a 7-6 lead with 15 minutes remaining in the first half and never trailed again. Jamil Wilson's fast break layup at seven minutes and pair of foul shots with a minute and a half left gave Marquette its largest lead of the half at 11. The Golden Eagles entered the break ahead 39-29 behind 50 percent shooting.
Xavier crept to within five on two occasions to start the second half, but Thomas answered with a 3-pointer each time. After a Martin layup made the score 45-39, Gardner made two free throws and Thomas followed with a pivotal three to widen the gap to 11.
Myles Davis' long ball with 11 minutes left made the score 59-54, but Marquette responded with a 10-2 run in the ensuing three minutes to put Xavier on the ropes.
Marquette, which failed to make a field goal in the final seven minutes, had to rely on its foul shooting in the home stretch. Its final 10 points came from the charity stripe.
Christon missed a pair of free throws with 52 seconds left that would have cut Xavier's deficit to four. Instead, the Musketeers fell behind by eight when Jamil Wilson made two foul shots on the next possession.
Mack sounded relieved to finish the season series with Marquette. He seemed even more grateful to not face Jake Thomas again, pending a Big East Tournament matchup.
"I swear, Jake Thomas makes more shots against us," Mack said. "He makes shots he doesn't take on film. I haven't been in this league long, but I'm so glad he's a senior. He passes up shots he takes against us, and they go in."
The Golden Eagles welcome nationally-ranked Creighton Wednesday in another critical contest. Tip-off is scheduled for 7 p.m.
Leave a Comment