National Marquette Day preview
Saturday marks the 23rd National Marquette Day, giving Golden Eagles fans around the globe a reason to gather and celebrate their Marquette roots.
Two basketball games headline the festivities as the men's and women's teams host Xavier. The women tip off at noon at the Al McGuire Center while the men are scheduled for a 3 p.m. start at the BMO Harris Bradley Center.
Fans had the luxury of witnessing successful National Marquette Day games the past few years, particularly on the men's side. The Golden Eagles won their last three NMD games, highlighted by their 2011 upset of No. 9 Syracuse.
In 2012, the Marquette men prevailed against Cincinnati 95-78 after sputtering out to a 16-4 deficit. Jae Crowder and Darius Johnson-Odom each scored 23 points as the Golden Eagles shot 57 percent from the field.
Last year's NMD matchup with Notre Dame resulted in a 72-64 victory. Jamil Wilson led Marquette with 19 points, and Chris Otule scored 16.
The women's squad faltered at Georgetown last season 51-48. Arlesia Morse and Sarina Simmons combined for 31 points in the loss.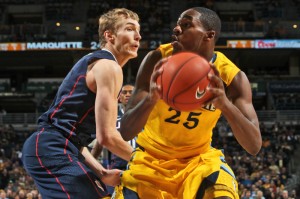 Men looking to extend streak
Marquette won consecutive Big East games for the first time this year after its win at Seton Hall Tuesday. The Golden Eagles stand at 6-5 in the conference.
Marquette used a pivotal 11-0 run to turn a six-point deficit into a five-point lead. The 27-10 run to close the game demonstrated the team's ability to execute when needed.
"I thought their effort was superb," coach Buzz Williams told ESPN 540. "I thought their energy was great. I thought their togetherness in huddles, off the bench, before free throws, before out of bounds, was as good as it's been in a long time, for sure the best that it's been this year."
Xavier recently took care of business at Butler, triumphing 64-50. The Musketeers are tied for first in the Big East in rebounds per game (38.0), led by Matt Stainbrook's 8.9 boards.
Leading scorer Semaj Christon (16.8 ppg) will be a pest for the Golden Eagles. Christon tallied double figures in points in each of his last 12 games, including a season-high 28 against Marquette Jan. 9.
The 7-4 Musketeers will search for separation in the standings in order to secure third place. The Golden Eagles will bank on Christon having an off day and players such as Jamil Wilson and Davante Gardner – both major contributors Tuesday – stepping up once again.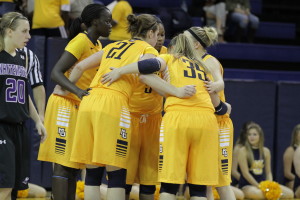 Women trying for four wins in last five
At 7-5 in the Big East, the Marquette women's basketball team already matched its conference win total from 2012-13.
Senior Katherine Plouffe took the reins statistically, averaging 17.5 points and 9.8 rebounds per game. Marquette is out-rebounding its opponents by 14 boards per contest and averages an astounding 19.7 offensive rebounds.
Thanks to an essentially injury-free campaign, Marquette positioned itself for a postseason appearance. Its hopes for qualification, however, hinge on beating the teams it's supposed to beat, like Xavier.
The Musketeers limped to a 3-9 Big East record and lost their last six games. Shatyra Hawkes paces Xavier's scorers with 13.9 points per game. The team is shooting a subpar 37.7 percent overall and owns a dismal 0.71-to-1 assist-to-turnover ratio.
The key in this matchup will be using the fine blend of Plouffe's post game and guard Brooklyn Pumroy's much improved court vision to get ahead quickly and permanently.
Leave a Comment