KILLIAN: Burton's development consistently entertaining for MU fans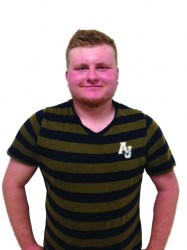 As Marquette's season of inconsistency rolls on, the freshman Deonte Burton's emergence provides consistent entertainment for Golden Eagle fans.
In Tuesday night's 69-62 win over Butler, the Milwaukee native helped spark a Marquette comeback, scoring nine of his 11 points in the second half. Averaging 6.5 points per game, he's the fifth leading scorer on the roster, and he seems to get better with every game.
Earlier this season, Marquette coach Buzz Williams likened Burton to former Big East Player of the Year Jae Crowder, as a player with great "basketball instincts." He's shown his potential early in his Golden Eagle career to take over games with his aggressive playing style and scoring touch.
Tuesday night also showed, however, that his "all-out" mentality can lead to poor shot selection at times.
"Deonte can score it almost in an uncanny way, but he also takes some really dumb shots," Williams said after the victory. "But he's not blatantly taking dumb shots. It's that he's played 22 games, and in his career he's always dominated his opponent."
Williams conveyed a common frustration with Burton through a replicated conversation regarding an air-balled three-pointer late in Tuesday's contest.
"When he shoots that three tonight at a critical juncture, like 'Deonte, you don't have to shoot that alright? Because nobody was guarding you because of what we just ran. And I told you to drive. That's how you've been scoring.' And he's like, 'I know.' And I'm like, 'Yeah, but we can't give that possession away.'"
Aside from scoring ability, Burton displayed a knack for taking the ball away, adding four steals Tuesday to his total of 28, tying him for team-high with Derrick Wilson. But like his shot selection, his drive to force turnovers can get him into trouble.
"He is Lazar Hayward in regards to 'hey, I got that,'" Williams said. "But 'Deonte, when you don't get that, they're dunking it. And if they don't dunk it, somebody's rotating over and getting a foul, all because you want to be Ron Artest and just bump dudes off and go steal the ball.'"
To Williams and the Marquette faithful, Burton represents a raw, sometimes unbridled, talent that over time could be molded into a player of Crowder's caliber and beyond.
But for now, Williams is focused on putting Burton and the rest of his freshmen in the right position to contribute to the remaining season.
"It's just part of growing and part of maturing, but we need those guys," Williams said. "We need those guys to keep helping us. We need those guys to keep growing."
Leave a Comment