MU wins back-and-forth battle with Butler 69-62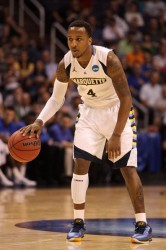 Marquette and Butler played yet another exciting game against one another, as the Golden Eagles pulled out a tough 69-62 victory at the Bradley Center. Marquette split the season series with the Bulldogs thanks to Jamil Wilson and Todd Mayo's dueling 17-point performances.
While Wilson did more damage in the first half, Mayo racked up all 17 of his points in the final 20 minutes to bring Marquette back from a 10-point deficit.
Mayo brought the crowd to life with a 3-pointer that cut Butler's lead to 43-39 with just over 12 minutes to play. Another triple from Mayo tied the game at 50 with just over eight minutes remaining, but Kellen Dunham promptly answered with a three of his own at the other end.
Jake Thomas tied the game again with a 3-pointer, but Kameron Woods regained the lead for Butler with a pair of free throws. A monster jam by Khyle Marshall got the Butler lead back to four points, but a Davante Gardner layup and transition drive by Mayo tied the game at 57 with just over four minutes left.
Mayo struck again with a nifty inside move to give Marquette its first lead of the second half. Otule blocked Woods from behind to set up Mayo in transition for a three-point play.
Deonte Burton's layup gave Marquette a seven-point lead with 2:10 to play, and Wilson's contested hook shot essentially sealed the game with 59 seconds left.
A quick transition bucket by Dunham cut the deficit to six points, and Thomas double-dribbled on the inbounds play, but Dunham stepped out of bounds before getting off a three-pointer.
Wilson missed a pair of free throws, and Marshall layed in an alley-oop feed from Alex Barlow to cut the Marquette lead to four points. Gardner and Thomas were finally able to close out the Bulldogs, however, knocking down three bonus free throws in the final seconds.
Both teams got off to a sluggish start as no points were scored in the first four minutes. Butler bricked its first nine field goal attempts, while the Golden Eagles missed their first four, turning the ball over twice.
Gardner gave Marquette the first lead of the game on a wide-open layup with 15:49 left in the opening half, but Marshall answered with a dunk at the other end. Gardner put Marquette up 4-2 with a thunderous dunk off a great bounce pass from Mayo in transition.
After some back-and-forth play, during which the lead changed six times and the score was tied four times, Butler entered halftime up 25-23. Wilson led all scorers at the break with 10 points including a pair of three-pointers. Marshall paced Butler with seven points, two rebounds and a steal in the first half.
The win brings Marquette back to .500 in Big East play at 5-5, and the Golden Eagles will have a week off before taking on Seton Hall next Tuesday in Newark, NJ.
Leave a Comment