Morse's 20 first half points lead Marquette to victory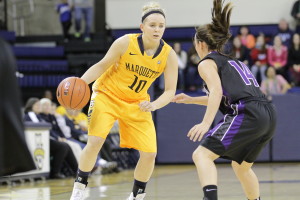 The Marquette women's basketball team got back into the win column after two straight losses with a 77-54 blowout against Georgetown at the Al McGuire Center Saturday night.
Marquette (14-6, 5-4) benefitted from junior Arlesia Morse's hot hand in the first half. Morse shot 7-for-8 from the field, including a perfect 4-for-4 from behind the three-point line. Adding two free throws, Morse scored 20 points in the opening 20 minutes, the most she's scored in a single half in her career. The rest of the Marquette team scored 20 points combined in the first half.
Morse said she just got in a groove that allowed her to consistently make buckets.
"I got in a rhythm in the first half," Morse said. "Coach told me to catch and shoot, and Georgetown gave me the ability to catch and shoot."
Coach Terri Mitchell said it was great that the team continued to feed Morse the ball so she could score repeatedly.
"Arlesia was amazing, and what was amazing about it was that our team knew she was the hot shooter," Mitchell said. "We found a way to get her the ball and in the second half, when they were keying in on her, other people stepped up."
In the second half, the Georgetown defenders honed in on Morse, who didn't attempt a shot from the field. She was fouled on one of her shots, but only made one of the two free throws.
Morse attributed her lack of scoring in the second half to Georgetown's defensive focus on Morse.
"They were denying me the ball, so that gave my teammates opportunities to score," Morse said. "They were trying to shut me out, which gave … my teammates  the opportunity to score."
Senior Katherine Plouffe started off the game shooting a very poor 2-for-11 from the field. But she broke out in the second half, shooting 4-for-8 and finishing with 18 points. No other Marquette scorer reached double digits in points.
Mitchell said Plouffe had to snap out of her funk in order to score, and she did.
"She was just coming up short in some of her shots," Mitchell said. "I just didn't want her to stop … when she was in that rhythm, I wanted to keep her in. … Even when she's not scoring, she still makes such a difference on the court."
While no player on Marquette registered a double-double, a couple of players came close. Both senior Katie Young and junior Apiew Ojulu scored eight points and brought down nine rebounds. Young got most of her rebounds on the defensive glass, while Ojulu was dominating the offensive zone. Plouffe got all six of hers defensively. All together, the Golden Eagles outrebounded Georgetown 47-32, including a 23-12 advantage on the offensive boards.
Marquette was also very good off the ball. The Golden Eagle defense didn't let the Hoyas take many shots in the first half, but Georgetown got its shots to fall, as it shot 57.1 percent in the first half. But the Golden Eagles came out in the second half and shut down the Hoyas' offense. Georgetown chucked up 31 shots from the field and only made nine, shooting a sub-par 29 percent. The Golden Eagles also forced 20 Georgetown turnovers and caused three shot clock violations.
Mitchell was very impressed with her team's defense, especially in the second half.
"Our defense in the second half was outstanding," Mitchell said. "It gave us the ability to stretch a 10 point lead into winning by 20."
Marquette continues its homestand with a Wednesday night game against Seton Hall, which is a rescheduled game from Jan. 6. Tip-off is at 7 p.m.