Tennis teams score convincing victories
Hang on for a minute...we're trying to find some more stories you might like.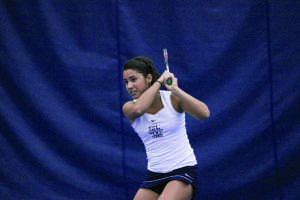 Saturday proved to be a great day for the men's and women's tennis programs. Both teams won their home openers at the Helfaer Tennis Stadium, as the women toppled University of Illinois-Chicago (5-2) and the men easily defeated IUPUI (6-1).
The women swept all three doubles positions and won the first four singles courts. Sophomores Laia Hernandez Soler and Erin Gebes went undefeated for the day as did juniors Ali Dawson and Ana Pimienta. Hernandez Soler and Dawson defeated UIC's Mariana Palacios and Ann-Sophie Hahn 6-2 at first doubles. Gebes and senior Rocio Diaz won second doubles 6-1.
Pimienta and junior partner Vanessa Foltinger took down their opponents 6-2. Pimienta, Gebes, Hernandez Soler and Dawson won first, second, third and fourth singles, respectively. Pimienta led Marquette at first singles 6-1, 6-1 and was recently named Big East Women's Tennis Player of the Week.
This was the first match of the women's season and they started off strong with a 1-0 record. The team's next match is Saturday at the Helfaer Tennis Stadium against Wisconsin-Madison.
The men also dominated in doubles and singles this weekend. First doubles team senior Dan Mamalat and junior Vukasin Teofanovic beat IUPUI's Patrick O'Neill and Alex Toliver in an easy 6-1 set. Both Mamalat and Teofanovic found success at first and second singles, respectively. Mamalat defeated Toliver 6-1, 6-1 and Teofanovic beat Jason Jaruvang 6-1, 6-2.
Marquette's freshmen third doubles team of Nick Dykema and Kristiyan Trukov won 6-2. Both freshmen earned starting singles positions as well. Dykema played fourth singles and defeated IUPUI's Thomas Gans 6-1, 6-0 and Trukov won at sixth singles 6-4, 6-5. Junior Cameron Tehrani finished with a 6-4, 6-3 win at fifth singles.
This win for the men brought their record to 2-1 overall, but they haven't played a conference match. Their next match is Friday on the road against Minnesota.