Killian: Improved offensive efficiency a silver lining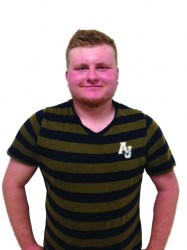 Predictions for the remainder of Marquette's season are like Milwaukee's recent weather: brutally cold.
Some labeled Saturday's loss to Villanova as the figurative dagger through the heart of the Golden Eagles' NCAA Tournament chances. It was no doubt a crushing blow, after such a valiant effort (and some rare good luck) allowed Marquette to force overtime.
It's tough to find a silver lining to the current situation of Buzz Williams' team. But that didn't stop the coach from pointing out a few areas of improvement after Saturday's loss.
"Offensively, that's probably as good as we've played," Williams said.
Williams used the same words to describe last Monday's overtime win against Georgetown in which Marquette shot 44 percent from the field. It was better against Villanova, shooting 50 percent, assisting on 19 of their 31 baskets made.
Williams has stressed the importance of turnover ratio throughout the season and lauded his team's ball control against the Wildcats, while, of course, keeping things in perspective.
"We had nine turnovers, four of them were offensive fouls in the first half, so five," Williams said. "I don't even think all of the five were live-ball turnovers. Had a 12 percent turnover rate. 1.12 points per possession. Man, those are really good numbers. [Villanova's] starting one, two and three had 70 points. Those are atrocious numbers."
While NCAA basketball isn't NHL hockey, and no points are awarded for reaching overtime, the offensive efficiency Marquette displayed Saturday allowed it to take a better, more consistent team down to the wire. It was a reminder that if the players on Williams' roster perform to their highest potential, Marquette will have more chances to beat talented teams.
Over the last three years, Marquette fans saw seniors enter their final seasons surrounded by questions and go on to etch their names into Golden Eagle lore in one way or another.
This season began with maybe more questions than ever regarding team leadership, and while the 2014 senior class is rapidly running out of ink, it still has time to write its final chapter.
In a losing effort, Davante Gardner played his most complete game of the season and possibly his entire career. He did it over 39 minutes, an impressive number by his standards. Jamil Wilson played 41 minutes with 16 points and nine rebounds, and in a limited role Chris Otule was efficient with six points in 16 minutes.
If those types of numbers were to remain at least somewhat consistent, Marquette's chances in each of its remaining games would look much better.
Admittedly, that's a big "if", and to make matters worse, the Golden Eagle defense has done little to slow down big runs by opponents and close out games.
For a team that started its season shooting as poorly and playing as sloppily as the Golden Eagles did, it's refreshing to see some of the kinks being worked out. But it doesn't do much to brighten next month's forecast.
When in do-or-die mode, Buzz Williams' teams have done remarkable things in the past, and with practically every game a must-win, Thursday and Saturday could be rallying or jumping-off points for most fans.
Leave a Comment