Men's Big East Notebook, Jan. 28
Providence continues to roll
The Friars showed their surprising start was anything but a fluke last week as two more wins confirmed them as a Big East title contender. Led by Bryce Cotton's 18 points and Kadeem Batts' career-high 17 rebounds, Providence knocked off Butler at home 65-56. More impressive, however, was Saturday's 81-72 victory against Xavier. Junior forward LaDontae Henton recorded a double-double with 22 points and 11 rebounds, while Cotton led all scorers with 25 points and dished seven assists. The win placed Providence in a tie with the Musketeers for third place in the conference, one game behind second-place Villanova. After starting 0-2, the Friars have now rattled off five wins in a row and are the only team in the Big East to beat first-place Creighton. With a verified star in Cotton and a much more consistent frontcourt presence, Providence looks like a balanced squad that should eventually command a spot in the Top 25.
St. John's secures first two conference wins
Steve Lavin's team came into last week winless in Big East play, but after victories against Seton Hall and Butler, the Red Storm is now seventh in the conference at 2-5. After snapping a five-game losing streak against Dartmouth the previous Saturday, the Red Storm clung to a 77-76 lead against the Pirates in the final seconds of Thursday's contest. Sir'Dominic Pointer redeemed himself for lobbing an inbounds pass out of bounds by knocking the ball away from Fuquan Edwin at midcourt as time expired. After finishing with 16 points in the win, JaKarr Sampson dropped a game-high 20 points in St. Johns' next game in Indianapolis against the Bulldogs. The Red Storm convincingly beat last-place Butler 69-52 after shooting 52.6 percent from the field. Highly touted freshman Rysheed Jordan showed he's starting to live up to the hype, with 23 points combined in the two victories, while D'Angelo Harrison scored 16 in each game. With the win over the Pirates, St. John's finished its home schedule at Carnesecca Arena 8-1 and will play the remainder of its home contests at Madison Square Garden.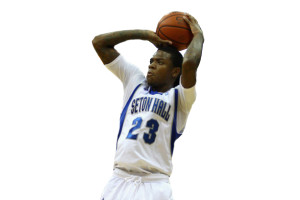 Fuquan Edwin, senior guard, Seton Hall
After finishing with just 12 points and losing the ball on the final possession of a loss to St. John's Thursday, Edwin responded in a big way against DePaul. The senior was honored before Saturday's 86-69 rout of the Blue Demons for eclipsing the career mark for steals in Seton Hall history. He proceeded to drop 30 points, connecting on 11 field goals, including three three-pointers. Edwin added to his new school record with a steal, dished two assists and pulled down two rebounds in the win.
Game of the Week
Xavier at Villanova – Feb. 3, 6 p.m. CST
This battle between two of the top teams in the conference should have major implications down the stretch. Villanova is hoping to claw its way back into first place after taking a beating from Creighton and narrowly escaping with an overtime win at Marquette. A victory for Xavier, meanwhile, would solidify its status as a Big East powerhouse and possibly place them in consideration for a spot in the Top 25.
Leave a Comment