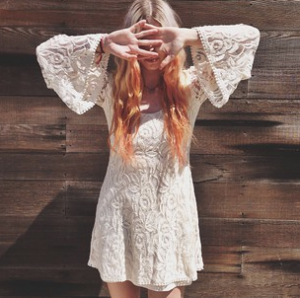 A style trend to watch out for this spring is the bell sleeve. What is the bell sleeve? The bell sleeve is a sleeve that gets increasingly wider as it goes from the elbow to the wrist. Tops with bell sleeves are a great way to add a more dramatic style to your wardrobe.
The bell sleeve was first worn by women  during the renaissance. Women would hide things in the sleeves of their dresses. Back then, the bell sleeve was primarily made with velvet or cotton fabric. Today the bell sleeve dress or blouse can be found in all different kinds of fabric.  A particular fabric that the bell sleeve style is being made with lace fabric giving it this vintage 1970s look. The extra detail makes these bell sleeve dresses look like one-of-a-kind with the see-through lace around the sleeves. Wear it with a a cowboy hat or a pearl necklace with wedges and you'll be ready to rock spring break out in style.
Key hint: When shopping for a bell sleeve dress make sure that you try it on in person before purchasing. Bell sleeve can fit differently on people depending on your size and arm length. If you are shopping online make sure to read the reviews and to check the return policy. That way if it doesn't end up fitting right it can be returned.