KILLIAN: Monday's OT magic may be turning point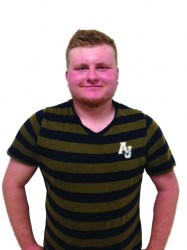 When the final buzzer sounded late Monday night, the previously raucous Verizon Center fell eerily silent. Then a chant began that started as a whisper from the corners of the arena and grew louder until it was audible from the floor to the rafters: "We are Marquette."
It brought back memories of the last time those three words were heard in Washington. It was nearly 10 months ago, right after the Golden Eagles knocked off Miami to advance to the Elite Eight.
Marquette's start to its Big East season can be likened to a whisper. A quiet 3-3 record is not what many fans and sports media had in mind when they picked Marquette to win the newly aligned conference.
"A lot of people had already counted us for being done," coach Buzz Williams said in his postgame press conference. "A lot of longtime followers of our program had already given up."
Williams' Marquette teams have faced their share of uncertainties. Back in 2011, some fans were bold enough to brandish "Fire Buzz" signs after a disappointing 80-68 loss to St. John's on Al's Night. That was before three straight trips to the Sweet Sixteen solidified Williams' status as a top-tier coach who gets the most anyone could out of his rosters.
Over the last three years, Marquette gave its fans plenty of reasons to doubt with head-scratching losses. A rout at the Bradley Center by Vanderbilt in 2011. Road losses to Florida and Green Bay in 2012. Practically every loss this season.
But as consistent as these frustrations have been, even more consistent is the Golden Eagles' ability to right the ship and win when it matters most.
Was the Golden Eagles' first road victory against the Hoyas since 2009 a turning point? Not even Williams knows yet.
"I hope that it helps," Williams said. "I think how we handle this will determine how we handle the next test we get. It's hard to win here, it's hard to win at Creighton, hard to win at Xavier, hard to win at Butler. But then we'll play the fourth ranked team in the country at home on Saturday. You can't get too high. You can't get too low. Just get to the next one."
Villanova already looks poised to drop in the rankings after making Marquette's performance at Creighton look passable by comparison.
Nevertheless, a Golden Eagle victory would be an affirmation that Monday's overtime magic wasn't a fluke.
Beat the Wildcats and those "We are Marquette" chants might get even louder. Maybe loud enough to eventually be heard in the NCAA Tournament.
Leave a Comment