Simple treats for your sweet
Cooking a meal for loved ones on this special day doesn't need to be stressful. Planning each part of the meal can be easy and quick with few ingredients and simple steps that will impress any company that walks through the door. The recipes below include a crowd pleasing appetizer that takes only 10 minutes, entrées for both those with shorter time and others for those willing to cook a little longer. Finally, end your wonderful meal with sweet desserts and funky drinks that will make Feb. 14 a day to always remember.
Appetizer: Berry Bruschetta  (10 minutes)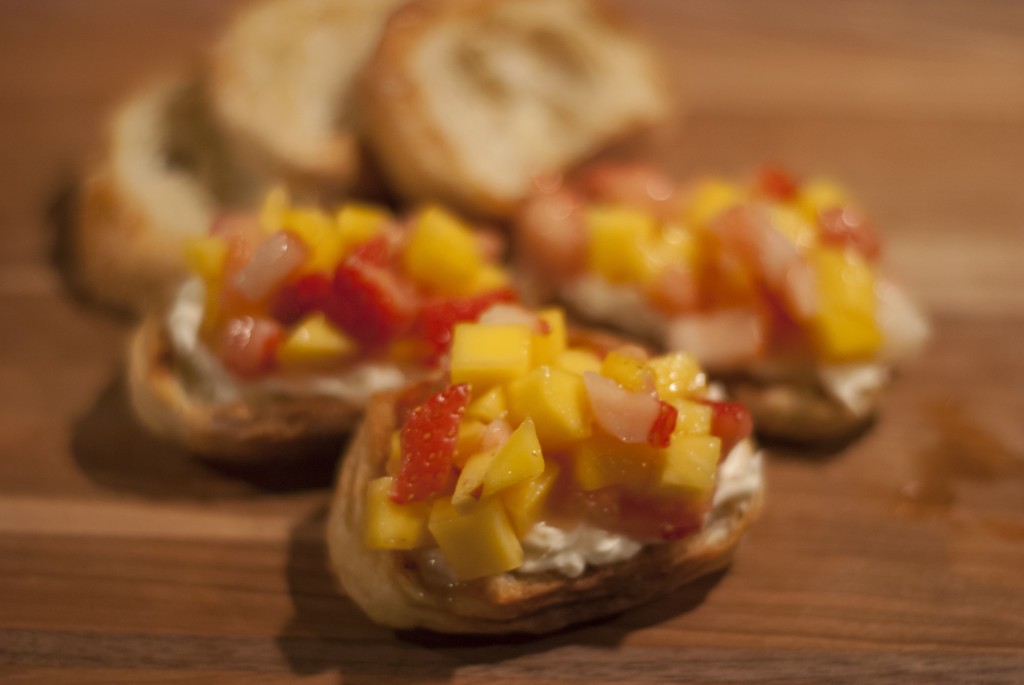 A variation on your everyday tomato bruschetta that includes refreshing fruits, perfect as a light appetizer.
http://www.tasteofhome.com/recipes/berry-bruschetta
Ingredients:
1 baguette
2 tablespoons olive oil
1-1/2 cup chopped fresh strawberries
¾ cup peeled fresh peaches, chopped
1-1/2 teaspoons fresh mint, minced
½ cup Mascarpone cheese
Directions:
Cut baguette into slices ½ inch thick; place on ungreased baking sheet. Brush with oil. Broil for 1-2 minutes or until lightly toasted.
In a small bowl, combine the strawberries, peaches and mint. Spread each slice of bread with cheese and top with fruit mixture. Broil again for 1-2 minutes or until cheese is slightly melted. Serve immediately. 
Dinner: Chicken Marsala (30 minutes)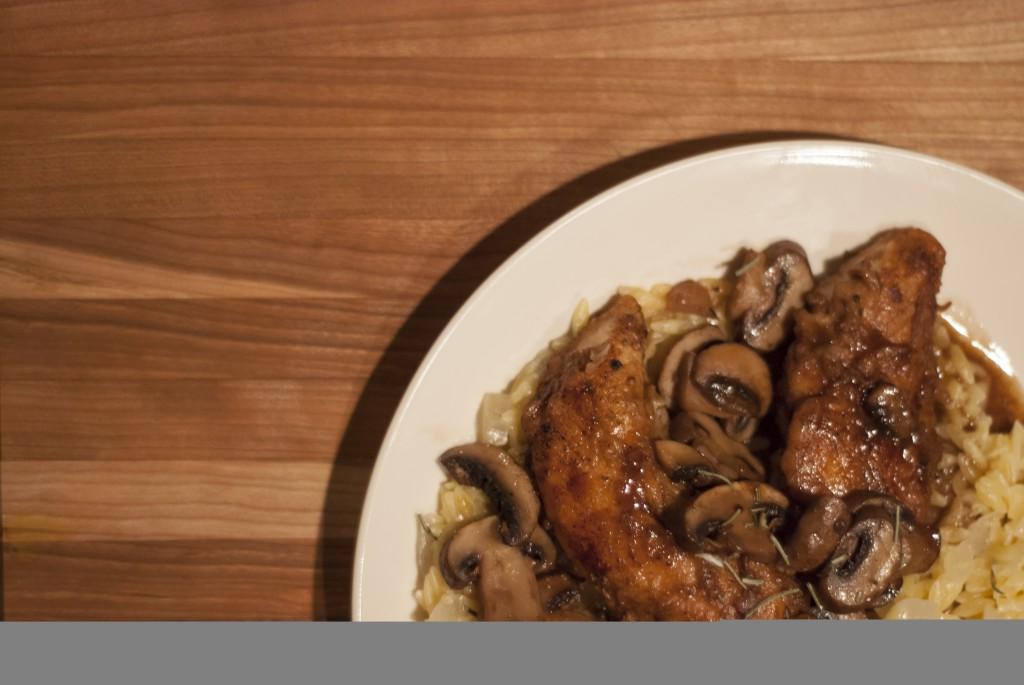 This entrée is easy to make in as quick as a half hour! With chicken, mushrooms and a delicious sauce, this light meal will instantly impress your company, especially when paired with rice pilaf.
http://allrecipes.com/recipe/chicken-marsala/
Ingredients:
¼ cup all-purpose flour
½ teaspoon salt
¼ teaspoon ground black pepper
½ teaspoon dried oregano
4 skinless, boneless chicken breast halves, pounded ¼ inch thick
4 tablespoons butter
4 tablespoons olive oil
1 cup  mushrooms, sliced
½ cup Marsala wine
¼ cup cooking sherry
Directions:
In a shallow dish or bowl, mix together flour, salt, pepper and oregano. Coat chicken pieces in flour mixture.
In a large skillet, melt butter in oil over medium heat. Place chicken in the pan and lightly brown. Turn over chicken pieces, and add mushrooms.
Pour in wine and sherry. Cover skillet and simmer chicken 10 minutes, turning once, until chicken is no longer pink and the juices run clear.
Possible side: Rice Pilaf
http://allrecipes.com/Recipe/Sarahs-Rice-Pilaf/Detail.aspx?evt19=1
Ingredients:
2 tablespoons butter
½ cup orzo pasta
½ cup onion, diced
2 cloves garlic, minced
½ cup uncooked white rice
2 cups chicken broth
Directions:
Melt butter in a lidded skillet over medium-low heat; cook and stir pasta until golden brown.
Stir in onion and cook until onion becomes translucent, then add garlic and cook for 1 minute.
Mix in the rice and chicken broth, increase heat to high and bring to a boil.
Reduce heat to medium-low, cover and simmer 20-25 minutes until rice is tender and liquid is absorbed.
Remove from heat and let stand for 5 minutes.
Dinner: Pasta Puttanesca (1 hour)
This recipe may have a long list of ingredients, but the majority of them can be found around the home. Paired with roasted vegetables, you can create a gourmet meal in no time!
http://www.tasteofhome.com/recipes/pasta-puttanesca
Ingredients:
1 package (16 ounces) penne pasta
1 medium carrot, finely chopped
1 tablespoon olive oil
¼ cup oil-packed sun-dried tomatoes, drained
5 garlic cloves, minced
2 tablespoons capers, drained
2 teaspoons dried oregano
2 teaspoons dried thyme
2 teaspoons fennel seed, crushed
1 teaspoon red pepper flakes, crushed
1 can (28 ounces) died tomatoes, undrained
1 tablespoons tomato paste
½ teaspoon sugar
6 fresh basil leaves, thinly sliced
3 tablespoons grated Parmesan cheese
Directions:
Cook pasta according to package directions.
Meanwhile, sauté carrots in a Dutch oven. Stir in tomatoes, garlic, capers, oregano, thyme, fennel and pepper flakes. Cook 1 minute longer.
Stir in the diced tomatoes, tomato paste and sugar. Bring to a boil.
Reduce heat; simmer, uncovered, for 10-15 minutes or until thickened.
Drain pasta. Add pasta and basil to sauce mixture; toss to coat. Sprinkle with cheese.
Possible side: Roasted vegetables
http://allrecipes.com/recipe/roasted-vegetables/
Ingredients:
1 small butternut squash, cubed
2 red bell peppers, seeded and diced
1 sweet potato, peeled and cubed
3 Yukon Gold potatoes, cubed
1 red onion, quartered
1 tablespoon fresh thyme, chopped
2 tablespoons fresh rosemary, chopped
¼ cup olive oil
2 tablespoons balsamic vinegar
Salt and pepper
Directions:
Preheat oven to 425.
In large bowl, combine squash, red bell peppers, sweet potato and potatoes. Separate the red onion quarters into pieces and add to mixture.
In a small bowl, stir together thyme, rosemary, olive oil, vinegar, salt and pepper; toss with vegetables until they are coated. Then, spread them evenly on a large roasting pan.
Roast for 35-40 minutes in the preheated oven, stirring every 10 minutes, or until vegetables are cooked through and browned.
 Cocktail: Raspberry Chocolate Kiss (10 minutes)
This daring cocktail will hold a spotlight at any dinner party with its festive name and taste! While it looks as though it takes a lot of effort to whip up this fruity drink, it only takes 10 minutes to shake together.
http://www.delish.com/entertaining-ideas/holidays/valentines-day-recipes/romantic-drinks-desserts-valentines-day#slide-2
Ingredients:
½ cup vodka
4 tablespoons cranberry juice
6 Nabisco Famous Wafers, chocolate, finely crushed
20 raspberries
Ice cubes
4 tablespoons simple syrup
Directions:
Fill a shallow dish with 1 tablespoon of simple syrup or enough to cover the bottom and place crushed cookies into another shallow dish. Invert a martini glass into the syrup and then immediately into crushed cookies to coat the rim of the glass.
Place raspberries in a cocktail shaker with 1 tablespoon of simple syrup and crush. Add vodka and cranberry juice and fill shaker with ice. Shake well until chilled and strain into prepared martini glasses. (Don't have a shaker? Place a flat object on top of a glass and shake!)
Cocktail: Lemon drop Martini (10 minutes)
For those willing to try something different with their Valentine's Day meal, this tart lemon drop martini has very few ingredients. With only a couple of steps this drink will leave you with puckered lips for your lucky date!
http://allrecipes.com/Recipe/Lemony-Lemon-Drop-Martini/Detail.aspx?evt19=1
Ingredients:
2 tablespoons white sugar
2 cups ice cubes
6 lemons, peeled, grated and juiced
4 large mint leaves
4 (6 fluid ounces) jiggers vodka
4 tablespoons simple syrup
Directions:
Moisten the rim of the martini glasses with lemon juice or water, dip in sugar and set aside.
Fill cocktail shaker with ice. Add lemon peel, lemon juice, mint leaves, vodka and simple syrup. Shake until well chilled, and then pour into prepared martini glasses.
Dessert: Apple-Of-Your-Eye Cheesecake
This recipe is sure to impress your guests as tasty cheesecake is paired with fresh apples, cinnamon and pecans that will spruce up this dessert and leave your date asking for a second slice!
http://www.tasteofhome.com/recipes/apple-of-your-eye-cheesecake
Ingredients:
CRUST
1 cup graham cracker crumbs (about 16 squares)
3 tablespoons sugar
2 tablespoons pecans, finely chopped
½ teaspoon ground cinnamon
¼ cup butter, melted
FILLING:
3 packages (24 ounces) cream cheese, softened
¾ cup sugar
3 eggs, lightly beaten
¾ teaspoon vanilla extract
TOPPING:
2-1/2 cups chopped peeled apples
1 tablespoon lemon juice
¼ cup sugar
½ teaspoon ground cinnamon
6 tablespoons caramel ice cream
Whipped cream
2 tablespoons pecans, chopped
Directions:
In a large bowl, combine the crackers, sugar, pecans and cinnamon and stir in butter. Press onto the bottom of a lightly greased 9-inch pie pan.
Place pan on baking sheet; bake at 350 degrees for 10 minutes; place pan on wire rack.
In a large bowl, beat cream cheese and sugar until smooth. Add eggs and beat on low speed until combined. Then stir in vanilla.
Pour over crust. Toss apples with lemon juice, sugar and cinnamon; spoon over filling. Return pan to baking sheet.
Bake at 350 for 55-60 minutes or until center is almost set. Cool on wire rack.
Drizzle with 4 tablespoons caramel topping and chill overnight.
Top with whipped cream, caramel and pecans. Serve with ice cream. Store in refrigerator.
Dessert: Monster Cookies (25 minutes)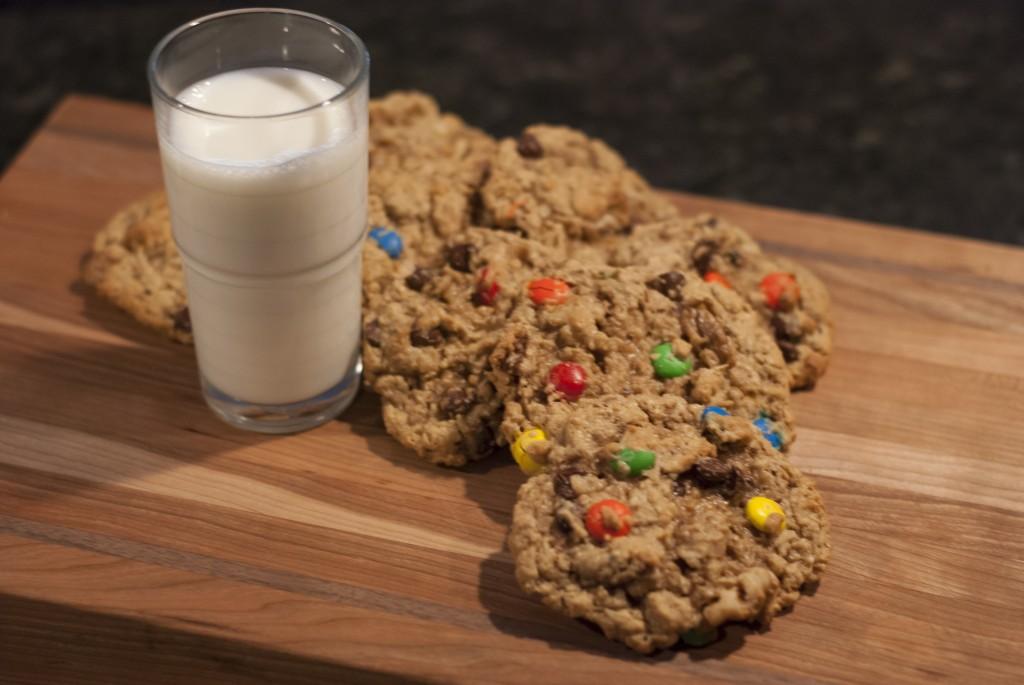 A twist on the classic chocolate chip cookie.
http://www.foodnetwork.com/recipes/paula-deen/monster-cookies-recipe/index.html
Ingredients:
3 eggs
1-1/4 cups packed light brown sugar
1 cup granulated sugar
½ teaspoon salt
½ teaspoon vanilla extract
1 jar (12 ounces) creamy peanut butter
1 stick butter, softened
½ cup multicolored chocolate candies (M&M's)
½ cup chocolate chips
¼ cups raisins (optional)
2 teaspoons baking soda
4-1/2 cups of quick-cooking oatmeal
Directions:
Preheat to oven to 350. Line cookie sheets with parchment paper or nonstick baking mats.
In a very large mixing bowl, combine the eggs and sugar and mix well.
Add salt, vanilla, peanut butter and butter and mix well.
Stir in the chocolate candies, chocolate chips, raisins, baking soda and oatmeal.
Drop batter by tablespoons 2 inches apart onto the prepared cookie sheets
Bake for 8-10 minutes. Let stand and place on wire rack to cool.