Winter wonderlands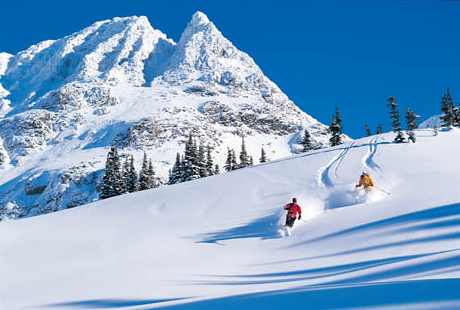 By: Cassandra Kidd
Looking for that perfect place to hit the slopes? You don't need to get as far away from campus as you think – Wisconsin has its fair share of winter wonderlands. From Granite Peak to Devil's Head to Sunburst, there are plenty of places to venture for a day of skiing and snowboarding. Whether you're looking for a day trip or a snow-filled spring break, here are our six picks for the "hottest" hills to shred this winter.
Top 4-Day Trips
4. Sunburst Ski Area – Kewaskum, Wis.
Anyone that grew up in southeastern Wisconsin has probably been to Sunburst. The park has it all – skiing, snowboarding, and for those of us that aren't so balanced, snow tubing.
The park is located in Kewaskum, Wis., and is the shortest drive out of our top picks. An easy 45 minute drive will get you there.
Sunburst has two bunny hills, five moderate level slopes and three slopes for advanced skiers and boarders only. The park boasts a 165 ft long conveyor belt for the nervous beginners and offers lessons to both kids and adults. Lessons are either $50 or $3o, depending on whether it's a private or group lesson. Sunburst isn't an ideal spot for altitude junkies, with the highest point of the park being a mere 214 feet, but the drive is short and the prices are the lowest on our list, going for $40 for a weekend session. For those looking to stay off their feet, the price is $15 for unlimited tubing Tuesday through Thursday.
If you know exactly which hill you want to face in the park, the Sunburst website offers a snow report, complete with a list of the open and closed hills for any given day. It also features a snow cam to enable customers to see for themselves if the slopes are to their liking.
Sunburst does not offer any accommodations onsite, with the nearest lodging being one mile down the road. The park has a deal with the Bonne Belle Motel to offer $10 off a room to Sunburst customers, but it's not the same cabin-feel experience as some of the more distant trips on the list.
3. Devil's Head Resort – Merrimac, Wis.
Devil's Head Resort acts as a ski and snowboarding resort in the winter and a premier golf resort in the warmer months, making it a thrilling experience all-year round.
The resort is located in Merrimac, Wis. It is an hour and 45 minute drive from campus, found north of Madison on the shores of Lake Wisconsin. The village itself is very small with a population of less than 500, so if you're looking for a cozy and quiet experience, this is the destination for you. They also host two bars onsite, the Devil's Den Bar and the Avalanche Bar & Grill.
While not as extreme as other parks, it's a better fit than Sunburst for those looking for altitude.The highest point in the Devil's Head Park is 500 feet. The longest run of the mountain is 1.5 miles and there are 30 ski trails to choose from of varying difficulty levels. Across their 300 acres of terrain, there's bound to be a slope perfect for you.
Get your wallets ready, because the pricing at Devil's Head is not cheap: day passes range from $45-52 depending on the day. If you'd like to make it a weekend getaway, packages are $350+ per person per night for some of the most beautiful lodging you will find in the area. It is hard to argue with granite countertops and 46" plasma-screen TVs in a three-bedroom condo.
Like Sunburst, the Devil's Head website offers a daily snow report and snow cam. Unlike Sunburst, Devil's Head does not accommodate beginner adults. There are no adult ski or snowboarding lessons offered at the resort, nor will you find a 165-foot long conveyor belt to help the unsteady. Devil's Head is a great day trip or getaway for the more confident skiers and boarders.
2. Marquette Mountain – Marquette, Mich.
The farthest day trip on our list, Marquette Mountain, used to be the place to go for serious skiers and snowboarders. This Michigan mountain boasts a 600 foot vertical rise and three different terrain parks.
The drive from Marquette University to Marquette Mountain is about four hours and 49 minutes. For serious skiers and boarders this may not be a problem, but if you're just looking for laughs in some fresh powder, it's a bit of a gas-guzzling trip.
The Monday through Friday rate for a four and a half hour session is $27, but if you want to get your day's worth of snow, the 11 a.m. – 8:30 p.m. rate is $34. Saturday and Sunday all-day rate is $10 extra, while the 4-8:30 p.m. rate stays the same at $27. There is an extra time slot on the weekends from 1-8:30 p.m. for $39.
Like Sunburst, Marquette Mountain does not offer onsite lodging. The park does offer special rates at 10 nearby hotels, just in case you'd rather not drive five hours home.
Marquette Mountain does offer private lessons for skiers and boarders of any age. Private lessons offered are $30/hour. If you have a group of friends that all want to learn, it's only $12/hour per person. Needless to say, if you all chip in gas money and learning is your goal, this is the snow park for you.
1. Granite Peak Ski Area – Wausau, Wis.
Granite Peak is located in Wausau, which is a two hour and 50 minute drive from the Marquette campus. This park has it all – the highest peak in the region, top-dollar equipment rentals and lessons for kids and adults alike.
Altitude and adrenaline junkies rejoice! Granite Peak boasts the highest point on our list, tipping the chars at over 700 vertical feet. There are 75 total runs at Granite Peak and the trails are complete with 35 jibs and 15 jumps. For the non-savvy skiers and boarders, a jib is any obstacle that the boarder faces by jumping on or over, the most popular of which are rails. The park itself is a boarder's dream.
Granite Peak offers a unique base village at the bottom of the slopes. The base village hosts the Granite Ski and Sports shop, Peak Performance Demos & Tuning Center, a lounge area complete with bar and plasma screen TVs and the Historical Stone Chalet. The Chalet, originally built in 1939, is named after the renowned WWII army alpine division that was trained specifically to fight and travel on skis. Fun fact: Most of the ski areas in the U.S. were opened or founded by these heroes.
Unfortunately, the Rib Mountain State Park does not offer onsite lodging, but there are 20 hotels that can easily be booked on Granite Peak's website. Many of these hotels offer incredibly low rates, starting at $59 per night.
For the inexperienced but eager-to-learn skier or boarder, Granite Peak offers adult lessons at group and private rates. The group rates are $35 and the private rate is $55, measuring on par with the rest of our list. Rates for day passes and two-day passes are a bit steeper than the competition, starting at $69 and going up to $128 for adults, not including lift passes. If you need to rent gear, Granite Peak offers a discounted rental rate online
From the mountain to the overall experience, Granite Peak is the number one choice on our list, and a favorite of the Marquette University Club Ski and Snowboarding team.
Top 2 Getaways
2. Mt. Hood Meadows Ski and Snowboard Resort – Mount Hood, Oregon
Mount Hood is a favorite destination for professional skiers and boarders, so it's obviously doing something right.
Mount Hood Meadows resort is about a 30-hour drive from Milwaukee, but if a road trip isn't up your alley this time of year, flights from Milwaukee to Portland, Ore., take close to 5 hours. Booking with Expedia.com, you're likely to spend upwards of $350 for a roundtrip flight (based on dates for a four night stay).
Mount Hood Meadows offers nine eating venues onsite, ranging from sit-down dining to sports bars and grills. As with any vacation eatery, you should be prepared to spend a bit more than you're used to. Some of the Vertical Restaurant & Sports Bar beverage prices will make you miss the on-campus bars. Beer is relatively the same, ranging between $4.50 and $7.25, but the mixed drinks start above $7 per glass.
Meadows does not offer onsite lodging, but instead offers a variety of discounts for staying at one of their 21 top picks. These lodging establishments range from quaint B&Bs to resort hotels, so there's sure to be a perfect fit for your spring break getaway plans. If you really want that mountain vacation feel, Cooper Spur Mountain Resort offers cabins and lodge condos for rent and is the closest lodging to Mount Hood Meadows.
Mount Hood Meadows also offers a variety of private lessons, starting at $110/hour, which is a bit steep. The best deal is for group lessons, which start at $55 for two hours. Rentals for adults range from $35-40, on par with the rest of our list. As for the skiing and snowboarding part of your trip, day passes are $74 each.
Now that the logistics are out of the way, here's the information you've been waiting for. Drum roll please … the vertical rise of Mount Hood is 2, 777 feet. Yes, this mountain makes Granite Peak look like a bunny hill. There are more than 2,000 acres of skiable area at this resort and there are a total of 85 runs, the longest of which is three miles. The resort offers a variety of terrain, ranging from the wide-open Cascade Express to the Front Bowls and Heather Canyon for more of a challenging slope. Beginners and experienced boarders are welcome and the resort argues that it has introduced more locals to skiing and snowboarding than any other Oregon ski and snowboarding resort.
Mount Hood is full of fresh powder and endless ways to have some fun on the slopes. There's a reason professionals and beginners alike choose this mountain, and we definitely recommend it for a spring break vacation.
1. Vail Mountain Resort – Vail, Colo.
Vail Mountain Resort is perfect for a weekend getaway. One of the largest single mountain ski resorts in the U.S., Vail has over 5,000 acres of terrain.
Vail offers nearly 200 ski trails spread across three faces of the mountain: the front side, the back bowls and the Blue Sky Basin. The mountain has the greatest vertical height on our list at 3, 450 feet. The mountain offers plenty for skiers and snowboarders, but like Sunburst, it also offers a whole area for snow tubing, including a slide like one you'd find in water parks, and areas for snowmobiling. The resort also offers two unique fun activities, a bungee trampoline and a zip-line that is new to the resort this year.
The resort does not offer lodging itself, but the village of Lionshead at the base of the mountain does. The village is completely closed off to cars and buses, making for an incredibly romantic scene.  The village offers many lodging options, from Antlers at Vail to the Ritz Carlton and everything in between. As with every other destination on our list, there are plenty of discounts available to make the most of your trip. The Lionshead village also features restaurants, taverns and shopping.  Just a mile outside of Lionshead is the Vail Cascade Resort and Spa, another lodging option. The resort features the largest gym in town and even has their own chairlift.
Equipment rentals at Vail are in the same range as all of our other destinations, starting at $40 per day. Lessons at Vail are on the steeper end of the price spectrum, with adult group snowboarding and ski lessons beginning at $195. Vail is beautiful and a well-rounded destination, but unless you want to spend more than the amount of airfare for a lesson, we recommend Vail for experienced boarders and skiers. Lift tickets start at $110 per day. The website guarantees the lowest possible lift ticket prices as long as you purchase seven days before your adventure begins.
While a much shorter road trip of approximately 16 hours without stops, flights are available directly to Vail, Colo. Flights range from 3 hours with a ticket price of about $500 roundtrip.
Note: These prices are gathered from Expedia and based on a four night stay.
From the experience on the slopes to the experience in town, there's a reason you've already heard of Vail. This destination is the ultimate vacation spot and the number one choice on our list for your spring break in the snow – as if we don't get enough here.
Leave a Comment