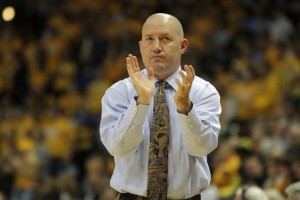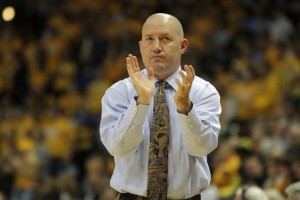 With three home overtime losses and an 0-5 Big East record, it's no secret Butler was in dire need of a win Saturday.
Marquette's second-half collapse and poor overtime execution paved the way for Butler to earn its first Big East victory, falling 69-57 in Indianapolis.
Davante Gardner scored 17 points and had 10 rebounds, and Jamil Wilson and Derrick Wilson each tallied 13 points for the Golden Eagles (10-8, 2-3). Marquette shot 5- of-27 in the second half, including 0-of-10 from long distance.
"It wasn't one guy, it was all of us," Marquette coach Buzz Williams told 540 ESPN. "It's hard to score five baskets in 20 minutes of play, and then to push it into overtime showed a lot of grit."
Kellen Dunham and Kameron Woods each pitched in 18 points for Butler (11-7, 1-5), with Woods adding 14 rebounds and two blocks.
A three-pointer by Todd Mayo was partially blocked with 12 seconds left that would have given Marquette the lead in regulation. Jake Thomas was fouled, and his pair of free throws with 4.6 seconds knotted the score at 49. Dunham heaved a half-court prayer as time expired, but it clipped the top of the backboard to force overtime.
In the extra period, it was all Butler. The Bulldogs made a 7-0 run while Marquette settled for contested jumpers. After a Thomas layup with a minute left made the score 62-55, Marquette chased and fouled hoping Butler would continue to struggle at the foul line. The Bulldogs, who shot 52 percent from the charity stripe, shook off their late-game nerves and converted nine of 12 free throws in the closing minute for a double-digit lead.
Butler, which lost coach Brad Stevens last summer to the Boston Celtics, suffered heartbreaking overtime losses at Hinkle Fieldhouse in recent weeks, sliding the Bulldogs into the Big East's basement.
Butler certainly did not play with the attitude of an 0-5 team Saturday, and it can thank the Golden Eagles for finally earning a mark in the win column after their long scoring drought.
Marquette, pushing the tempo out of halftime, raced out to a 40-28 lead with 16 minutes left. It would then make two field goals in the ensuing 15 minutes to end up four points behind late.
Dunham scored eight points in that span, including a baseline jumper with four minutes to go that gave Butler its first lead since the game's opening possession.
Jamil Wilson's dunk with 1:17 to go made the score 49-47 in favor of Butler, and two missed free throws by Marshall with 21 seconds left allowed Thomas' foul shots to force the tie.
"I think it puts a lot of stress on you defensively when you go those long stretches and you don't score," Williams said. "You do have to make shots. At some point you have to make bunnies, or you have to make shots in the paint, or you have to make uncontested open looks, and we didn't."
Gardner provided much of the Golden Eagles' scoring punch in the first half, scoring 13 points en route to a 32-26 advantage at the break. The Bulldogs would shut down Gardner in the second half, holding him to four points and making Marquette take shots where it's least comfortable — the perimeter. The Golden Eagles put forth an abysmal 4-of-24 three-point effort for the day.
Marquette's 16 turnovers led to 13 Butler points. Williams remarked that the team cannot afford to turn the ball over on 22 percent of its possessions like it did.
"That's too high," Williams said. "We need a shot. Even if we're missing a shot, we need a shot attempt in hopes that we can get an offensive rebound."
The teams combined for only 10 bench points. Todd Mayo netted four for Marquette, while freshman Deonte Burton was scoreless in four minutes. Freshman JaJuan Johnson did not play due to a left ankle sprain suffered in practice Wednesday.