Men battle Butler Saturday in Indianapolis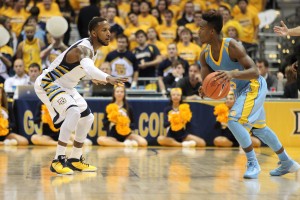 Marquette treks to Indianapolis Saturday to face a sputtering Butler team that started its inaugural Big East campaign 0-5. Although the Golden Eagles are holding steady at 2-2, Buzz Williams' squad needs this win to gain momentum before crucial games next week against Georgetown and red-hot Villanova. Here are three areas, important to Marquette's sucess, to watch for in the showdown.
Use the freshmen effectively
Freshmen JaJuan Johnson and Deonte Burton are more effective than perhaps people realize. Burton is a useful tool on the offensive end, scoring 19.2 points per 40 minutes. Contrast that to senior Jamil Wilson, who averages 18.2 points per 40 minutes but is a subpar 59.6 percent foul shooter. Burton also averages one offensive rebound per 12.7 minutes, which is more frequent than senior Davante Gardner (13.9).
Johnson's outside game needs some improvement (29 percent 3-point shooter), but is an 86-percent foul shooter and one of three Golden Eagles to have an assist-to-turnover ratio of 1.5-to-1 or better. Regardless of the score, Johnson and Burton deserve to play more minutes.
Turnovers could be costly
Seton Hall converted 12 Marquette turnovers into 22 points Saturday. The frontcourt committed nine of those miscues. Butler capitalizes on unforced errors, which can get out on the break with leading scorers Kellen Dunham (18.8 ppg) and Khyle Marshall (15.9). Butler takes care of the ball well, ranking first in the conference in turnovers per game (10.1), so forcing steals along the perimeter or at half-court will be on Marquette's priority list.
Gain confidence in the 3-point shot
Buzz Williams does not like it when his players take low-percentage shots when opportunities in the paint are present. However, if a team wishes to advance to the NCAA Tournament, it must possess multiple weapons in its arsenal. The Golden Eagles' perimeter game has been dormant for much of the year; the team is shooting 31 percent from long range, and its most accurate shooter is senior guard Jake Thomas (39 percent).
Marquette does not have a go-to three-point specialist this season. Thus, drive-and-kick plays are less successful, and long rebounds from these misses allow opponents to push the tempo. Someone must step up from the outside when the time arises. Butler holds its foes to 30.6 percent three-point shooting, but that should not deter the Golden Eagles from running their perimeter plays.
Leave a Comment