Mayo, 'mad' Wilson lead MU over Pirates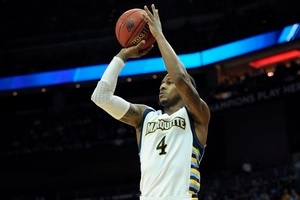 Marquette held on for a 67-66 win over Seton Hall Saturday led by Todd Mayo's 19 points and a breakout performance from Jamil Wilson.
Wilson's 12 first-half points, including an explosive put-back dunk, got the Golden Eagles rolling to a 40-26 halftime lead, while Mayo's five key second-half free throws helped Marquette subdue a late Pirates' rally.
The Golden Eagles connected on nine of their 10 second half free throw attempts as a team, as they continue to improve from the charity stripe.
"If we can get 18 free throw makes, we're probably going to have a chance," coach Buzz Williams said.
Williams said he knew that Wilson was "mad at him" over his playing time and elaborated on why he hopes Wilson "stays mad."
"He's my boy, and he wants me to be happy with him, and I want him to be better," Williams said.
Mayo agreed with Williams, claiming that Wilson should focus more on "doing what he can do" when on the court.
"When Jamil's not coaching, and he's been a player, he's one of the best in the country," Mayo said. "I know he's a senior and he wants to help (other players) all the time because of who he is, and he has a good heart, but at the end of the day you have to be a player and just come in and just play."
"Today he wasn't saying anything, and people thought something was wrong, but I kind of knew what was going to happen."
Mayo added that the Golden Eagles will likely work more on handling the full-court press in practice, as the Pirates were one of the first teams to implement it against Marquette this season.
"Coach is always talking about the press during practice, and I think from here on out we'll focus on it a little bit more, because obviously teams are going to start pressing us now," he said.
While Jake Thomas failed to score a basket, Williams was impressed with his efforts outside the box score, where he drew several key fouls and recorded a huge block on Seton Hall center Patrik Auda.
"They have to guard him, so that gives us space, and all teams need space," Williams said. "He plays perfect to the scouting report. He's got a lot of coach in him. He's smart enough not to do that for a profession, but he helps the guys that are on the floor regardless of what his stats are."
While Marquette out-rebounded Seton Hall 35-28, Williams said his team's turnover rate is still a "little too high" after it surrendered the ball 12 times to the Pirates.
Looking at the big picture, however, the Golden Eagles' win was a big step in the right direction, as it drew them to an even 2-2 in Big East play.
"It's a long season, and sometimes you feel like the only chance that you have to breathe is when you win," Williams said. "That's the way we all function, not just Marquette, anybody. So we have to continue to improve and never lose the prerequisite of toughness."
Leave a Comment