3 keys, 3 players to watch for Marquette vs. Wisconsin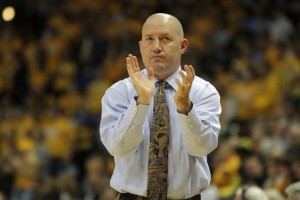 3 Keys to a Marquette win
Presence on the offensive glass
In Marquette's 67-59 loss to San Diego State, the Aztecs scored 14 points off of 15 offensive rebounds as coach Buzz Williams was quick to point out in his post game interview. While the Golden Eagles played well on their own end in this category (14.5 orpg), Williams said his team needs to improve its presence on the offensive boards. The Badger frontcourt is offensively sound so far as its top scorers, Frank Kamisky and Sam Dekker, are both forwards. While Marquette makes a living through its rebounding (41.4 rpg, 29th nationally) Wisconsin struggles with just 33.9 rebounds per game (248th nationally).
Field goal percentage
While Marquette's toughness on the boards kept it alive in previous games, the Golden Eagles' streaky shooting is a recurring hindrance. The Badgers have had no such problem, knocking down 44.8 percent of their field goals as a team. Marquette must focus on working the ball around to get high-percentage shots against Bo Ryan's squad, as poor shot selection could lead to the same long scoring droughts that left Marquette fans scratching their heads all season. Even making high percentage shots was difficult for the Golden Eagles at times, and it will be paramount against a top-tier Wisconsin team that could make Marquette pay for each of its misses.
Turnovers
Marquette's turnover ratio was a consistent theme for its success or failure in the first eight games it played. In an environment as tough as the Kohl Center, the Golden Eagles will have to control the basketball on their own end to stay in the contest. Against Arizona State, the Golden Eagles were able to hang with a good shooting team thanks to a four-turnover effort, but in the San Diego State loss, the Golden Eagles gave the ball away 15 times. Wisconsin has surrendered just 9.6 turnovers per game and shown that it won't miss when given good opportunities. That makes good ball handling on every Marquette possession will be pivotal this Saturday.
Players to Watch
Frank Kaminsky, Wisconsin junior center
Bo Ryan found his next star big man as Kaminsky leads Wisconsin with 15.2 points per game. With a 43-point performance against North Dakota under his belt, Kaminsky showed the ability to take over games. He can dominate under the basket both defensively and offensively and knock down shots from beyond the arc (12 3-pointers this season). Marquette will have to avoid running into the same problems it did against Arizona State's 7-foot-2 Jordan Bachynski by working around Kaminsky when it can on offense.
Ben Brust, Wisconsin senior guard
The Badgers' third-leading scorer can do it all as he averages 11.2 points per game and leads Wisconsin in three-pointers made (22) and shares the lead for rebounds per game with Kaminsky (6). The Golden Eagles struggled against hot outside shooting this season, and Brust could victimize the Marquette backcourt with his scoring knack from beyond the arc. Jake Thomas and Todd Mayo should have their hands full keeping him from getting hot early.
Deonte Burton, Marquette freshman forward
Burton has risen to prominence in Buzz Williams' game plan and put forth a good showing in the Wooden Legacy Tournament. The freshman led the Golden Eagles with 15 points off the bench in their loss to San Diego State and will likely be a big factor Saturday. The Golden Eagles will need a well-balanced attack in the paint against Wisconsin with Kaminsky holding down the five position defensively. Burton should be a tough matchup at the four, and his bench scoring could again be crucial should the Golden Eagles' starters struggle.
Leave a Comment