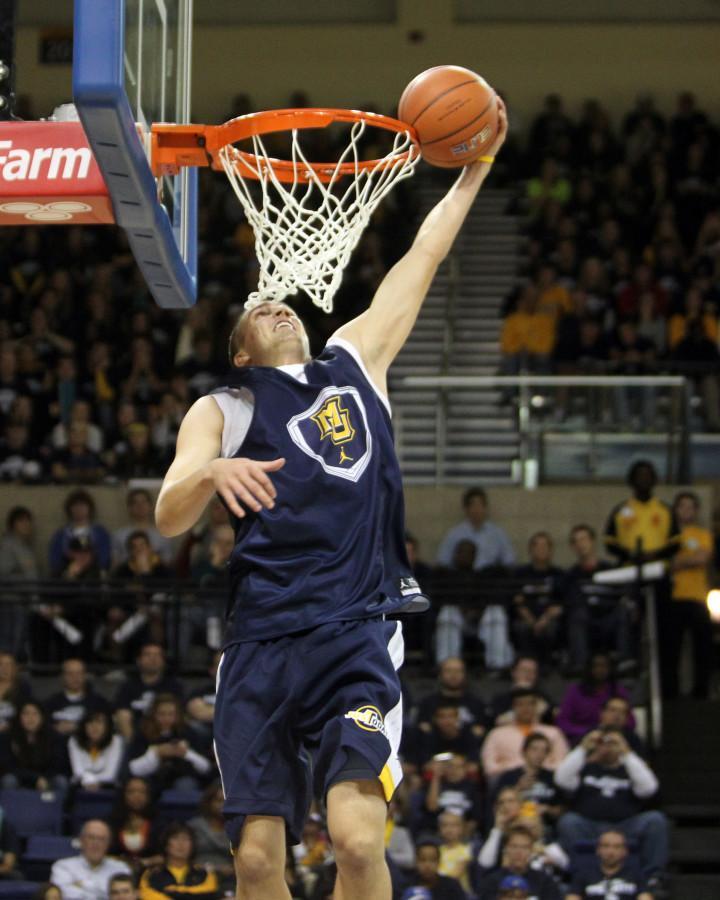 Maggie Casey
Friday marks the first day the men's and women's basketball teams can start practicing in preparation for the upcoming season. The beginning of basketball season marks the storied and beloved Marquette tradition — Marquette Madness.
The dunk contest is arguably the most exciting event of the night. The players of the men's team will show off their hops and creativity in hopes of de-crowning last year's winner Jake Thomas, a redshirt senior guard. Junior forward Juan Anderson, is someone to watch during this year's dunk contest. He placed in the top three last year and at 6-6, he can think up some original dunks. Incoming freshman Deonte Burton could also score big in the dunk contest with his signature one-handed throw-down. At 6-4, he makes it look easy.
The Buzz Williams impersonations are always a crowd favorite, with some fans taken out of the crowd to show off their talents for judges chosen from the men's basketball team. A talent competition between the men's and women's basketball teams will follow.
The talent competition always gets some laughs and is one of the most entertaining segments of the night. The women's basketball team is looking for another win to follow its "Gangnam Style" team dance from last year. Maybe this year they will choreograph a dance to  "What Does the Fox Say?" Perhaps Chris Otule will wow the audience with his singing and give the win to the men's team. The students, faculty and alumni in the stands will decide the winner of the contest by texting in their vote for the best act.
The highlight of Marquette Madness is the introduction of the men's team and its scrimmage. The men are split into two teams and put on a show for the Marquette fanbase. This year the team will have three top 15 ranked recruits: JaJuan Johnson, Duane Wilson and Deonte Burton. It'll be exciting to see what the three bring to the team. The scrimmage is as close as the student body will get to a Marquette game until the team's first game against Southern Nov. 8.
The women's team will kick off the night with its team video, introductions and then a scrimmage. The scrimmage gives a preview of the women's team before its opening game.
Marquette Madness begins Friday at 7 p.m. at the Al Maguire Center. It will also be streamed live on GoMarquette.com.
Story by Hayley Keith, special to the Tribune