Volleyball faces new challengers for Big East crown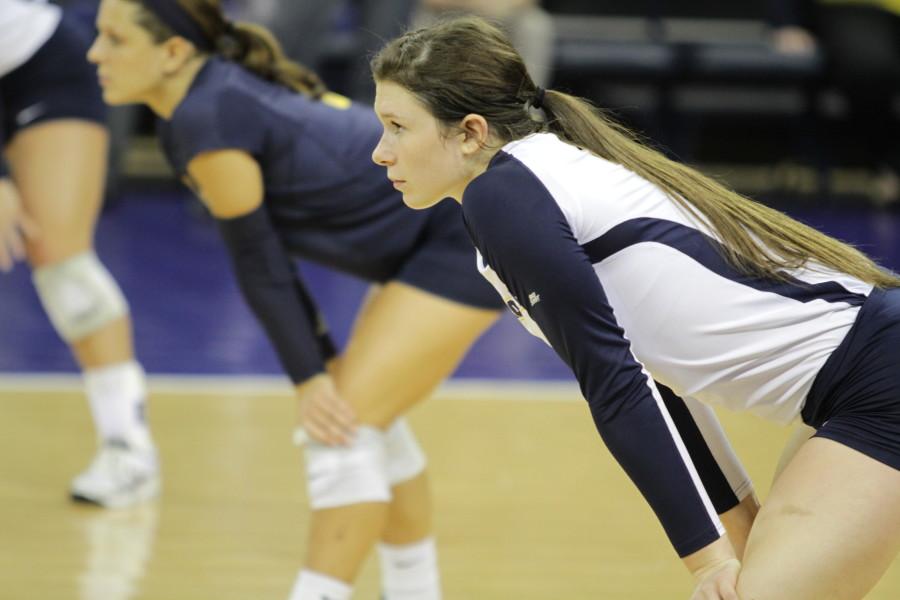 In 2012, the Marquette women's volleyball team battled Syracuse, Notre Dame and Louisville for the top spot in the Big East Conference. The Golden Eagles finished second, losing to the Cardinals three times, including a loss in the Big East Conference Tournament final at the Al McGuire Center.
In 2013, none of Marquette's toughest competition from last season will play in the Big East. Syracuse has moved on to the Atlantic Coastal Conference, and the other two will join the Orange in 2014 and play an intermediate year in the American Athletic Conference. As such, Marquette's biggest competition in this year's conference will likely come from two Big East newcomers, Creighton and Xavier.
The Bluejays pose the largest threat to Marquette's title hopes. Ranked No. 23 in the nation entering conference play, Creighton swept the Golden Eagles in the first round of last year's NCAA Tournament. The Big East coaches predicted Creighton would win the conference with Marquette a close second.
Creighton finished out its pre-conference season 9-3 and without a bad loss on their resume. The teams brushed shoulders with the Golden Eagles at the season-opening Hampton Inn Invitational in Bowling Green, Ohio. While the two teams didn't play against each other that weekend, they faced off against a pair of mutual opponents in Bowling Green and BYU. While Marquette beat BGSU but fell to BYU, Creighton took care of both opponents and claimed the tournament title.
Creighton's most efficient offensive player is junior middle blocker Kelli Browning. The Big East coaches picked Browning as preseason conference co-player of the year along with Marquette senior setter Elizabeth Koberstein. Browning has hit .304 so far this season and has a team high 72 total blocks. She is tied for third on the team with 2.13 kills per set. Junior outside hitter Leah McNary leads the Bluejays in that category with 3.11 kills per set. Sophomore outside hitter Melanie Jereb joined McNary and Browning on the preseason all-conference team.
The Bluejays and Golden Eagles will meet Oct. 13 in Omaha and Oct. 25 in Milwaukee in the two most anticipated match-ups of the Big East season.
Xavier found the third slot in the coaches' preseason predictions and ranked ahead of fourth-place Seton Hall by a wide margin.  The Musketeers have started 2013 slowly, going just 7-6. They lost all three games in their most recent tournament in Irvine, Calif, and will need to recapture momentum at the beginning of conference play.
Like Marquette, Xavier has a freshman outside hitter that has burst onto the scene early in her career. Abbey Bessler plays a similar role to Marquette's Autumn Bailey, and has averaged 3.23 kills per set so far this season. The Musketeers also boast two unanimous preseason all-conference selections in senior outside hitter Sarah Brown and senior middle blocker Alex Smith. Smith is hitting an impressive .418 this season.
Outside of the two newcomers, Seton Hall poses the biggest challenge to Marquette. The Pirates have the always dangerous Manthorpe twins (Shelbey, a setter, and Stacey, an outside hitter) back for their junior seasons. Shelbey was Seton Hall's only unanimous all-conference selection and is known for her attacking skills on second contact. She averages 1.64 kills per set in addition to 8.19 assists. Pewaukee, Wis. native Amanda Hansen, a sophomore middle blocker, leads the Pirates in kills per set this season at 2.43.
Marquette's Big East journey begins this Saturday, Sept. 28 at DePaul at 7 p.m.