Men's lacrosse finishes inaugural season against Duke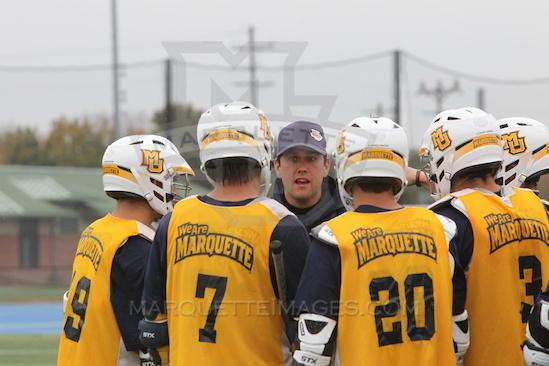 In the first two minutes of the men's lacrosse team's inaugural season finale against Duke Sunday, the Blue Devils jumped out to a 3-0 lead and kept their foot on the gas for the remainder of the first quarter. By the end of the opening period, the Golden Eagles were down 10-1. From then on, Duke coasted to a 19-3 victory.
Coach Joe Amplo said he was glad his players gained the experience of competing against one of the most storied programs in college lacrosse.
"Those seniors know nothing less than Final Four weekend in the Duke locker room," Amplo said. "They've been to six final fours in a row. That's the top of our sport right there and that showed today."
Redshirt freshman midfielder Kyle Whitlow, redshirt midfielder Cullen Cassidy and redshirt sophomore Ben Dvorak scored for Marquette in the team's lowest offensive output of the season. Josh Dionne led Duke's offense with four goals, while Jordan Wolf, a finalist for the Tewaarton National Player of the Year award, finished with two goals on nine shots.
Sunday's game had a Marquette lacrosse record 4,202 fans in attendance. Dvorak, one of Marquette's co-captains, said he was proud of the turnout at his team's final game.
"It gives me the chills," Dvorak said. "It is amazing to see that many people support … Just to know that the fans stuck behind us and wanted to support us is amazing."
Despite the disappointing result of the season finale, the Golden Eagles exceeded expectations this season, finishing with a 5-8 record. Marquette beat Air Force, Mercer, High Point, Detroit and Bellarmine, with its final three victories coming in a win streak during mid-April. Five of the Golden Eagles' eight losses came against ranked opponents, three of which were in the top 10.
As Marquette's inaugural season comes to a close, Amplo said the team's experience against Duke, along with the rest of the Golden Eagles' games this season, will serve as a foundation for the young program's future.
"Next year, I think it is realistic to think that we'll be able to compete with anybody that is on our schedule," Amplo said. "I'm excited to see if we can start the season the way we finished."