Men's lacrosse offense overwhelming in first home game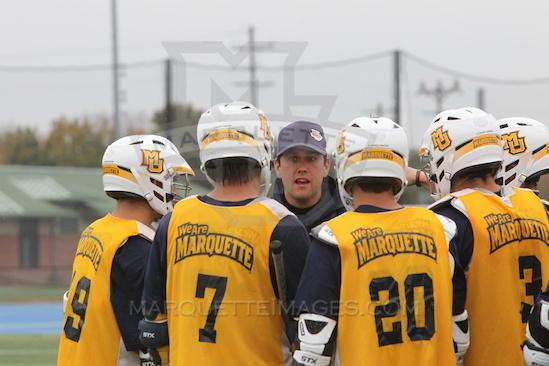 The men's lacrosse team started the fourth quarter of its game against the Detroit Titans Saturday with a 10-5 lead but allowed two quick scores. On the ensuing faceoff, redshirt junior midfielder Cullen Cassidy won the draw, picked up the ball and raced down the field to score his first goal of the season, spurring a 4-0 Marquette run that sealed the Golden Eagles' first home win in program history.
In the most recent installment of what coach Joe Amplo has called a "season of firsts," Marquette not only earned its first home win but strung together its first win streak in program history with a second consecutive win. In each of these games, the Golden Eagles matched their season-high mark of 14 goals. Redshirt freshman midfielder Kyle Whitlow, who scored three goals in Saturday's contest, said the team's output was a product of cohesive offensive effort.
"We came out pretty hot, we were moving the ball around pretty quickly," Whitlow said. "It was probably our best offensive performance as a team. We had a lot of great ball movement, teamwork and communication. We were all flowing out there."
Redshirt junior attackman Tyler Melnyk led Marquette's offensive onslaught. He led all scorers with four goals and dished out two assists for a game-high six points. Whitlow and Cassidy scored three and one goals, respectively, while freshman midfielder Connor Bernal and redshirt junior attackman Bryan Badolato, who had not played since March 16 due to a knee injury, each chipped in two goals. Freshman midfielder Blaine Fleming and freshman attackman Brendan Smith posted one goal apiece.
Throughout the game, Marquette capitalized on Detroit's penalties, converting on four of its seven man-up opportunities. The Golden Eagle extra-man offense was ranked No. 8 in the country coming into the game with a 45 percent scoring rate. Amplo said his players got back to the sound fundamentals they exemplified earlier in the season to execute on their man-up chances.
"About three weeks ago, we were the No. 1 man-up (team) in the country then we got complacent a little bit and I thought we weren't moving the ball as well," Amplo said. "Tonight, it is the same thing offensively where we just made the simple play, and when you do that you're going to wear a team down a little bit. And if you hit your shots, that's when you see success."
Melnyk said Marquette's second consecutive victory means more to the team than just a boost in the win column. He said the Golden Eagles' ability to put together a win streak during their inaugural season will positively affect the team's expectation of success in the future.
"It's huge because once you establish that culture, you can expect to win," Melnyk said. "If you expect to win, it is a lot more fun than coming in and having to panic. You can settle into games a lot easier if you expect to win. That's huge for us, and I think it will pay off."
Marquette has a chance to extend its win streak to three when it travels to Louisville, Ky., to take on the Bellarmine Knights today at 2 p.m.